Diversification is one of the simplest way to achieve success with investing in the equity markets. Diversification works especially in the long run since different assets perform differently even during the same economic conditions. At a global level, emerging markets may have a great due to local and other factors while developed markets may underperform. So the key is to diversify one's portfolio with many asset classes so one can benefit from the difference in returns.
The following chart shows the importance of diversification across asset classes thru 2020:
Click to enlarge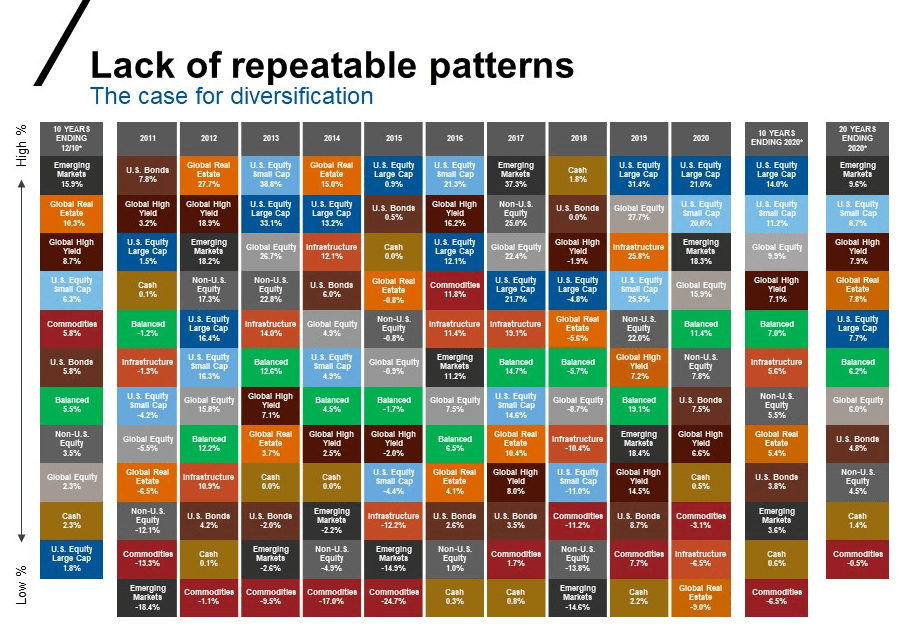 Source: Russell Investments
US large caps stocks were the top performers in both 2019 and 2020 with double digit returns. In the 10 years ending in 2020 also, US large caps were the winners with a growth of 14%. However over a 20 year period Emerging market stocks outperformed American large company stocks.
With the exception of 2019 and 2020, no asset class was a consistent top performer year after year. Commodities were the worst performers both in the 20-year and 10-year periods ending in 2020.
Related ETFs:
Disclosure: No Positions