The consumer staples sector is one of the sectors performing very well this year. While they have not rocketed like tech stocks the usually boring part of the equity market has found new-found attraction among investors due to the coronavirus pandemic.
The following chart shows the year-to-date returns of the top five stocks in the consumer staples sector:
Click to enlarge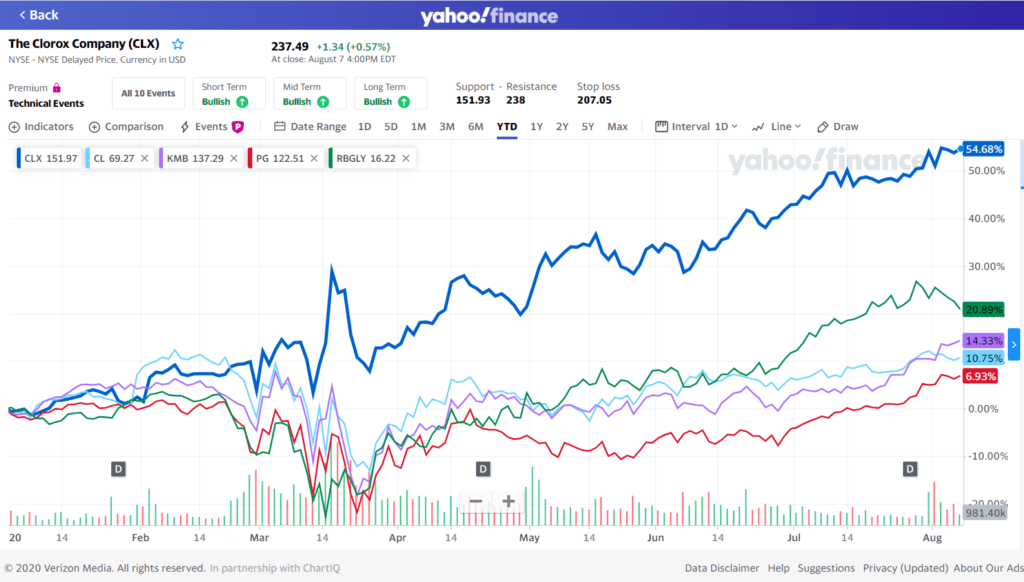 Note: The above returns are price returns only (excluding dividends)
Source: Yahoo Finance
Clorox(CLX), the maker of Clorox wipes and other related products, is the best performer with a return of about 55%. UK-based Lysol maker Reckitt Benckiser (RBGLY) is the next best performer with a return of about 21%. These two firms must continue to grow as the demand for their products shows no sign of abating anytime soon.
Kimberly-Clark Corporation (KMB), Procter & Gamble(PG) and Colgate-Palmolive(CL) may not grow as much as the above two companies according to a recent article in the journal.
Disclosure: Long RBGLY