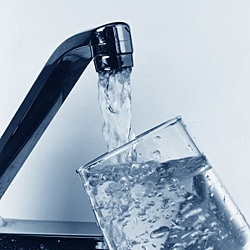 The utility sector is considered as one of the conservative and defensive sectors. Utility companies tend to be slow growth, stable and well-established dividend payers that some investors prefer to own. In most states in the US, utilities are highly regulated and are traditionally monopolies in their regional markets. Within the utility sector, water utilities are the most defensive and safest bets. This is because, water is the most basic necessities that everybody needs to live. In this post, let's take a quick look at some of the players in this largely unpopular part of the US equities market.
The water utilities sector is relatively small with just nine publicly traded companies. Out of these, only two have market cap of above $10 billion. The top three firms in this sector are Essential Utilities(WTRG), American States Water(AWR) and American Water Works(AWK). Another notable player is York Water(YORW).
According to an article in the WSJ earlier this year, the water sector has a low dividend of 1.91% compared to 2.61% for electric and 3.99% for gas utility sectors. However water companies grow their dividends consistently and the dividends are most reliable.
1.Essential Utilities(WTRG):
Essential Utilities, Inc., formerly Aqua America, Inc., is a holding company engaged in providing water or wastewater services in the states of Pennsylvania, Ohio, Texas, Illinois, North Carolina, New Jersey, Indiana and Virginia. It is the holding company for its primary subsidiary, Aqua Pennsylvania, Inc. Its conducts business through Aqua Resources, Inc. (Aqua Resources) and Aqua Infrastructure, LLC (Aqua Infrastructure).
Currently the market cap is over $11 billion and the dividend yield is 2.04%.
2.American States Water(AWR):
American States Water Company (AWR) is a holding company. The Company's segments include water, electric and contracted services.
Current market cap is about $3.0 billion and the dividend yield is 1.53%. It has raised dividends for the past 64 years with an average total return of 15% from 2009 to 2019.
3.American Water Works(AWK):
American Water Works Company, Inc. is a holding company for regulated and market-based subsidiaries throughout the US and Ontario, Canada. The Company's Regulated Businesses segment provides water and wastewater services as public utilities in 16 states in the United States. The Market-Based Businesses consists of four segments, including Military Services Group, which conducts operation and maintenance (O&M) of water and wastewater systems for military bases; Contract Operations Group, which conducts O&M of water and wastewater facilities for municipalities and the food and beverage industry; Homeowner Services Group, which primarily provides water and sewer line protection plans for homeowners, and Keystone, which provides water services for natural gas exploration and production companies.
AWK is the largest water utility with a market cap of over $26.0 billion.
4.York Water(YORW):
York Water Company is a water utility in the United States. The primary business of the Company is to impound, purify to meet or exceed safe drinking water standards and distribute water. The Company also owns and operates approximately two wastewater collection systems and two wastewater collection and treatment systems. The Company operates within its franchised water territory, which covers approximately 39 municipalities within York County, Pennsylvania and nine municipalities within Adams County, Pennsylvania. Its wastewater operations include portions of five municipalities in York County, Pennsylvania.
York is a mid-cap stock with a market cap of about $615.0 billion. The company has paid a dividend each quarter since 1816, the largest streak in the US equity market.
The 5-year return of three stocks are shown in the chart below. American Water Works has had a solid growth of 185%.
Click to enlarge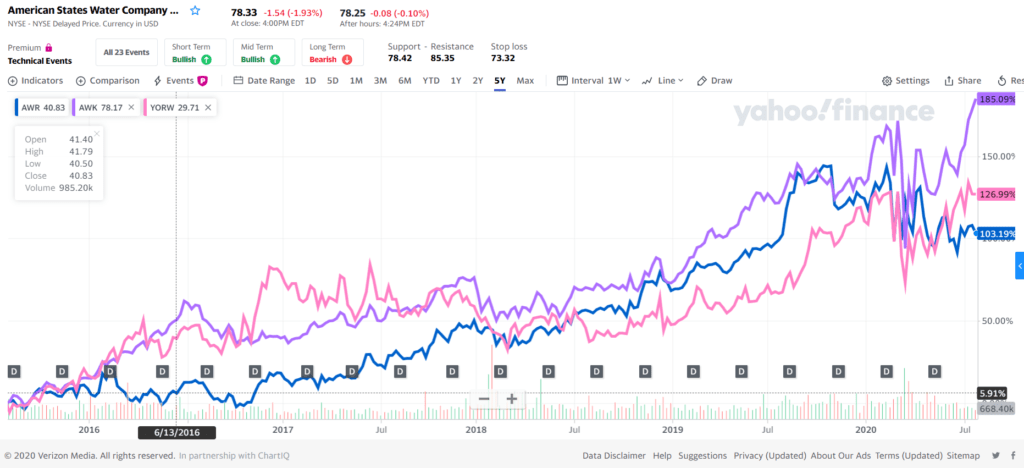 The year-to-date returns of the all the four stocks are shown below: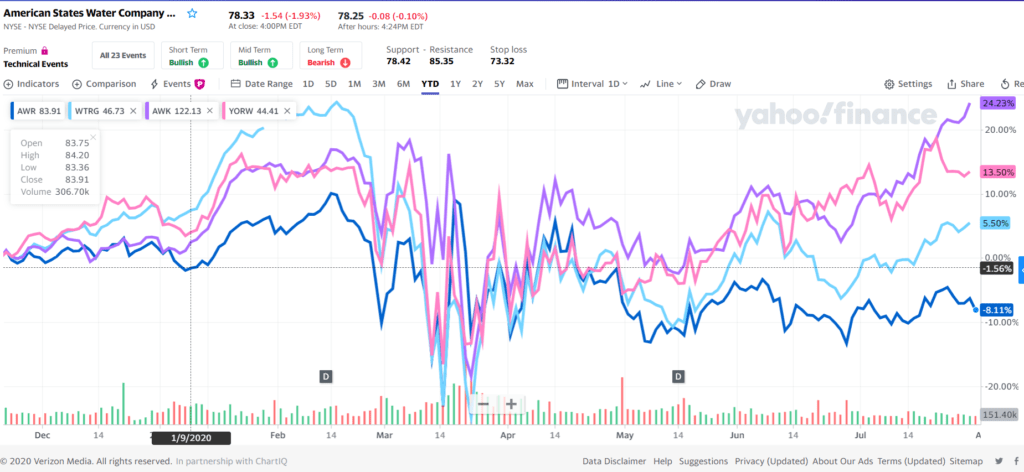 Note: Dividend yields noted above are as of July 30, 2020. Data is known to be accurate from sources used.Please use your own due diligence before making any investment decisions.
Source: Yahoo Finance
The other publicly-traded water utilities are:
Source: Just one word: Water!, WSJ
Disclosure: No Positions