The global economy is heading into a deep recession if it is not in one already. Millions of Americans are unemployed as the world's dynamic economic is in a standstill. In Europe and other parts of the world also the same situation is playing out. As companies' profits are plunging many of them are cutting or suspending their dividend payouts to shareholders. For income investors it is a big hit and in these challenging times it is difficult to hunt for income stocks when you the future is uncertain.
Overall European firms have slashed their payouts while most US firms have maintained theirs while preferring to layoff workers.
Banks and other financial institutions in Europe have suspended their dividends. Below is an excerpt from an article on dividend cuts in the UK and around the world:
Analysis by Link Group earlier this month tallied £28.2bn ($34.6bn) of dividend cuts this year, with the financial administration company warning of the total UK payout plunging 53% to £46.5bn in 2020 under the worst-case scenario outlined in its UK Dividend Monitor report.

Banks have been responsible for a large portion of those cuts, after bowing to the demands of the Bank of England and canceling £7.5bn of dividends at the beginning of April. A raft of insurers followed suit, under similar pressure from the Prudential Regulation Authority, the Bank's supervisory arm.
Source: Dividend cuts: where the axe is falling around the world, Citywire
In the US also many companies have suspended dividends. Some of them include:
German firms are expected pay out 7% less this year than in 2019.
In the emerging world, most countries have low yields.
Among the major oil firms BP(BP) has maintained its dividends. However Norway's Equinor (EQNR) has slashed it by two-thirds. American majors such as Exxon Mobil(XOM) and Chevron(CVX) are expected to maintain current payouts despite the crash in oil prices and COVID-19.
Big Oil's Dividend Yield:
Click to enlarge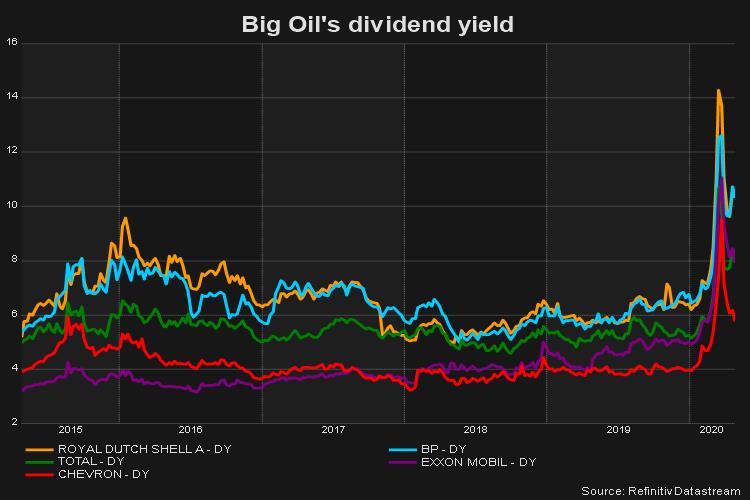 Source: Big Oil investors to look past earnings pain and focus on dividends, Reuters
Related articles:
Disclosure: No Positions