Manufacturing is the largest sector of the German economy. More specifically, the auto manufacturing industry is the largest in Germany. As a result, the German stock market tend to follow the auto industry.
The following chart shows how the German stock market is highly correlated to the auto industry:
Click to enlarge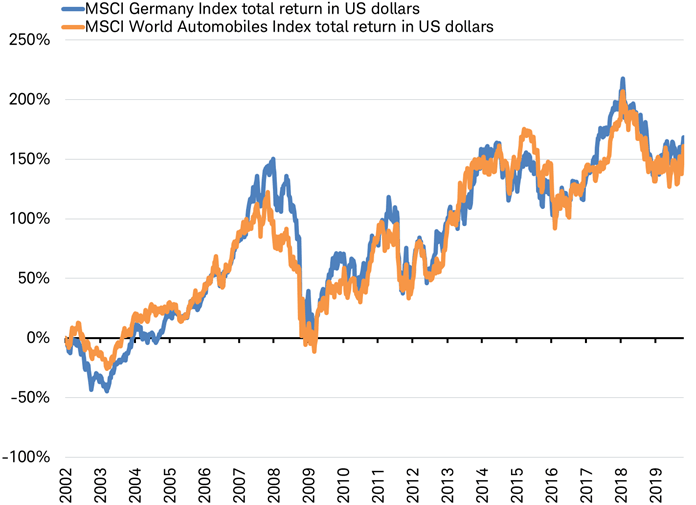 Cumulative total return since start of 2002. Source: Charles Schwab, Bloomberg data as of 10/27/2019.
Source: Will The Crash in Autos Drive The End Of This Cycle? by Jeffrey Kleintop, Schwab
Some of the important facts of the German auto industry are:
 In 2018, the auto industry had a turnover of EUR 426.2 billion. That is around 20 percent of total German industry revenue.
Germany is Europe's top auto market – both for manufacturing and registrations of new vehicles.
One in five cars worldwide carries a German brand.
The majority of autos produced in Germany are for export. Last year the figure stood at 78 percent.
Germany-based Volkswagen is the world's number auto maker and seller with sales of over 10 million last year.
Source: Germany Trade and Invest
The key takeaway for equity investors is that German stocks tend to perform well if the domestic auto industry is growing.