The economy of Canada is mainly natural resources based whereas the US economy is well diversified. Accordingly materials and energy are two of the major sectors in the benchmark TSX Index. The following chart shows the total returns and sector weights in the benchmark index of Canada and the US:
Click to enlarge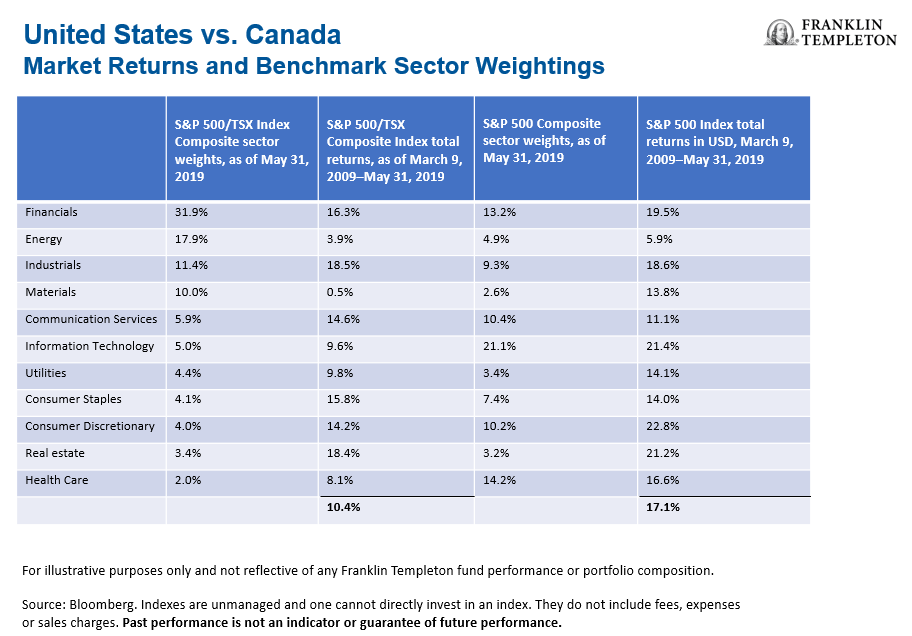 Note: The data shown above is of May, 2019
Source: A Northern View: 10 Years into a Canadian Bull Market, Franklin Templeton
Financials account for nearly one-third of the TSX Index but in the S&P 500 their weightage is just 13%. Compared to Canada, the combined weightage of Materials and Energy equals only 7.5% in the S&P 500.
Canada is a NOT a technology powerhouse and hence IT has a low weight in the TSX relative to over 21% in the US,
On Total Return basis, Canada has underperformed the US for the period shown.
Related ETFs:
Disclosure: No Positions