The Canadian stock market has under-performed the US market for many years now. For instance, while the S&P 500 is downy 1.52% year-to-date based on price, the S&P TSX Composite Index is off by 8.7%.
The following chart performance of the two indices in the past 5 years:
Click to enlarge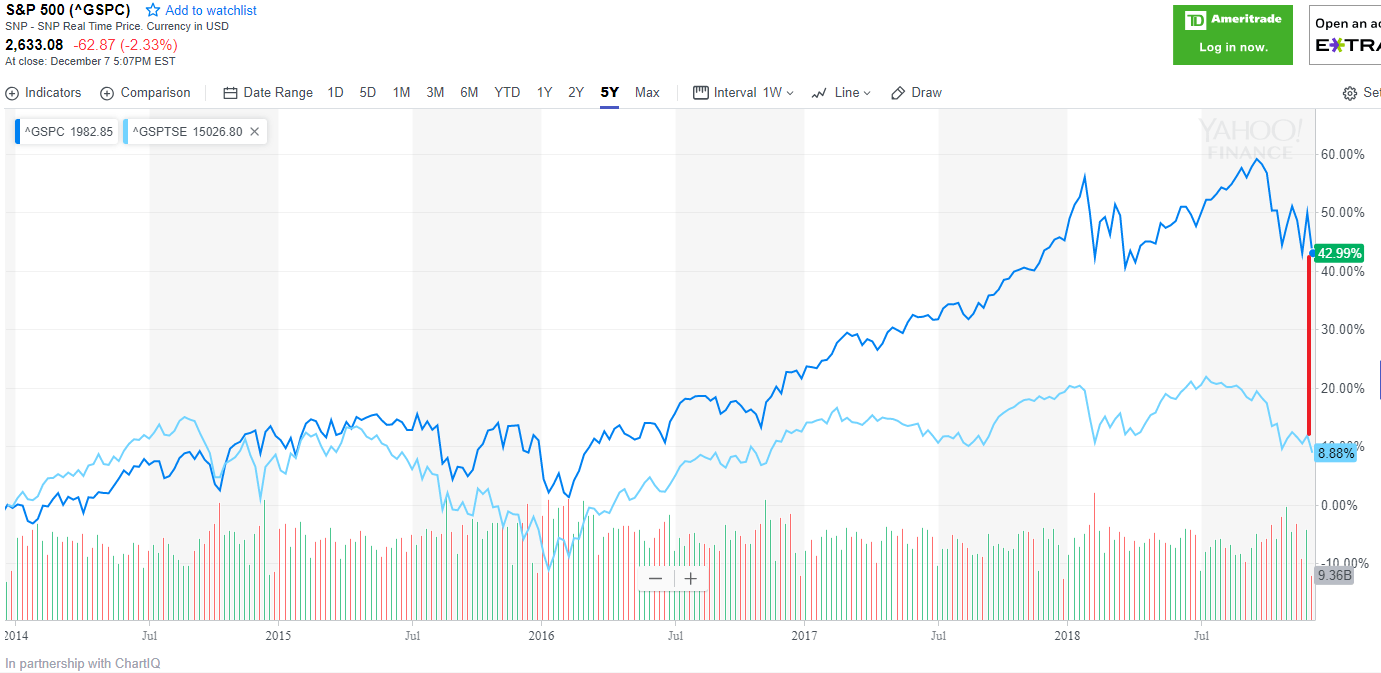 Source: Yahoo Finance
According to David Rosenberg, chief economist at Gluskin Sheff and Associates, Canadian stocks look cheap now. From an article at MaClean's:
The macro news in Canada may indeed be bad, but that bad news is likely already in the price. Consider for a moment that there has been no bull market north of the border this cycle as there was in the United States. The Canadian stock market is no higher now than it was in the summer of 2008—ten years of nothing but a whole lot of volatility and your reinvested dividend in the blue-chip banks. Yet corporate earnings have risen more than 30 per cent over this time frame, with nothing to show for it from a market price standpoint. In other words, the Canadian stock market is cheap. Dirt cheap. The forward price-earnings multiple (p/e)  is beginning to resemble that of an emerging market, and no, despite our challenges, we are not anywhere close to being an emerging market. Not yet, anyway. That p/e multiple has compressed all the way down to a mere 13.3 times, the lowest it has been in well over five years and the two-and-a-half percentage point discount that the S&P/TSX Composite Index trades at currently vis-à-vis the S&P 500 is the widest the valuation gap has been since June 2004 (normally, both markets trade with the same multiple). Canadian bears may want to dig into the history books because in the year that followed, the TSX rallied 16 per cent versus 4.5 per cent for the S&P 500. That was as tough a sell then as it is today, but either you believe in reversion-to-the-mean, or you don't.
Source: The most important charts to watch in 2019, MaCleans
Investors looking for opportunities in Canada can consider the following stocks for further research:
Bank of Nova Scotia (BNS), Bank of Montreal (BMO), Canadian Imperial Bank of Commerce (CM), Royal Bank of Canada (RY), Toronto-Dominion Bank (TD), Canadian National Railway Co (CNI), Canadian Natural Resources Limited (CNQ), Canadian Pacific Railway Ltd(CP), BCE Inc (BCE), TELUS Corp (TU)
Disclosure: All five banks listed above, CNI