The Wall Street Journal published its first ranking of the top 20 of the largest US airports. Denver topped the ranking followed by Orlando and Phoenix.
Click to enlarge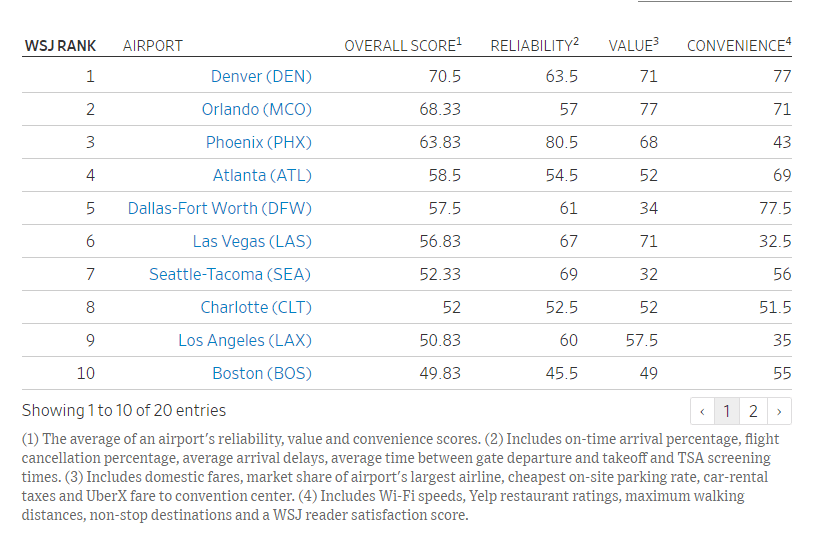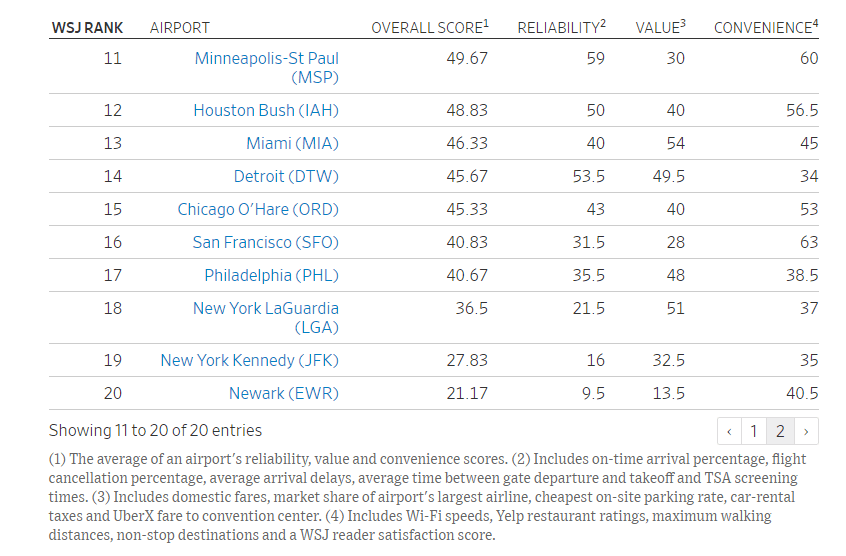 From the article:
The rankings also relied on an extensive survey of WSJ readers whose input on overall experience, ease of use, security, restaurants, shopping, airline clubs, bathroom cleanliness, electric charging outlets and other categories was graded and scored.

Airports world-wide have come to realize that offering good food turns out to be more profitable than peddling $10 hot dogs off rolling warmers. Having clean, modern facilities matters, and airports across the country have upped their game significantly. Airports say their own research shows what often matters most isn't dramatic public art or even comfortable seating or power plugs. It's clean bathrooms.
Source: The Best of the Biggest U.S. Airports, WSJ, Nov 14, 2018
The article generated plenty of comments from the paper's readers. Many suggested that the best airports are small airports in second-tier cities and that none of the large airports are the top airports. Some readers noted that though this list shows the best of the large airports, in reality none of them are the best on a global scale since all of them are junk based on many factors. They have a point. For example, none of the US airports can even be compared to world-class airports like Singapore's Changi or Dubai's airport.
Apparently American airports' research shows that the most important thing in an airport is clean bathrooms as noted in the excerpt above. Sure. Most passengers go to airports to spend most of their free time in bathrooms …..No wonder most large airports in the country are so awful in terms of passenger facilities and service except of course clean bathrooms because all that matters for passengers is the pathetic bathroom where most people spend like most of their time waiting for their flights. No wonder US airports can't appear in any of the world airport rankings.