The biotech sector is soaring this year with the benchmark NYSE Arca Biotechnology Index up by over 27% YTD as of the end of September. Investors' attraction towards biotech stocks shows no signs of showing as evidenced by many successful IPOs being launched on a weekly basis and also trading volumes. In addition, one of the top viewed pages on this site is the complete list of biotech stocks page.
In general biotech stocks are not suitable for all investors especially retail investors that are risk averse. This is because these equities are highly speculative and most of the companies cannot be analyzed using fundamental factors such as P/E ratio, assets, revenues, etc. The majority of the companies do not have any earnings yet as they are still in the discovery process to create some drug for cancer or other diseases. As such, a company that is successful in the discovery and winning of FDA-approval will be a winner while the unsuccessful ones will be spectacular losers. In addition, equity prices of losers can lose 50% or more almost overnight providing no warning and time to escape the carnage. So investors in biotech need to be aware of these risks and prepare their portfolios accordingly.
The case of two companies that had wild moves recently vividly describes the above scenarios.
On the winning side of the equation, Amarin Corporation plc(AMRN) is based in Dublin, Ireland. Below is short profile from Yahoo Finance:
Amarin Corporation plc, a biopharmaceutical company, focuses on the development and commercialization of therapeutics for the treatment of cardiovascular diseases in the United States. The company's lead product is Vascepa, a prescription-only omega-3 fatty acid capsule, used as an adjunct to diet for reducing triglyceride levels in adult patients with severe hypertriglyceridemia. It is also involved in developing Vascepa for the treatment of patients with high triglyceride levels who are also on statin therapy for elevated low-density lipoprotein cholesterol levels. Amarin Corporation plc sells its products principally to wholesalers and specialty pharmacy providers through direct sales force. It has collaboration with Mochida Pharmaceutical Co., Ltd. for the development of EPA-Based drug products and indications. The company was formerly known as Ethical Holdings plc and changed its name to Amarin Corporation plc in 1999. Amarin Corporation plc was founded in 1989 and is based in Dublin, Ireland.
AMRN was trading at under $5 per share for over a year. On Sept 21st, the stock was trading at $2.99. On Monday Sept 24th, the company announced that its fish oil drug reduced the risk of heart diseases. The stock more shot up 315% on this announcement. From a journal article that day:
Amarin Corp. more than tripled in value Monday, after the company said its drug derived from fish oil reduced the risk of heart attacks, strokes and deaths in certain high-risk patients.
The results could open the door for a new line of attack against heart disease, and turn Amarin's drug Vascepa into a blockbuster, if the data is borne out under closer scrutiny.
Amarin's announcement of the 
top-line results
 that Vascepa cut the risk of cardiovascular events in its study's subjects by approximately 25% was short on details. The company said the data will be presented in detail at the American Heart Association's annual meeting Nov. 10.
"This is indeed huge," Amarin CEO John Thero said during a conference call with analysts. The result "positions Vascepa to be first to market in addressing a large unmet medical need."
ADR shares of Dublin-based Amarin jumped 315% on the news, raising the company's market cap by $2.8 billion, to $3.6 billion.
Source: Amarin Surges on Fish-Oil Drug Data, WSJ, Sept 24, 2018
After ending Sept 24 a $12.4 the stock further rose in the following days. On Friday it shot up another 17% and ended the week at $16.27.
AMRN Year-to-date return chart:
Click to enlarge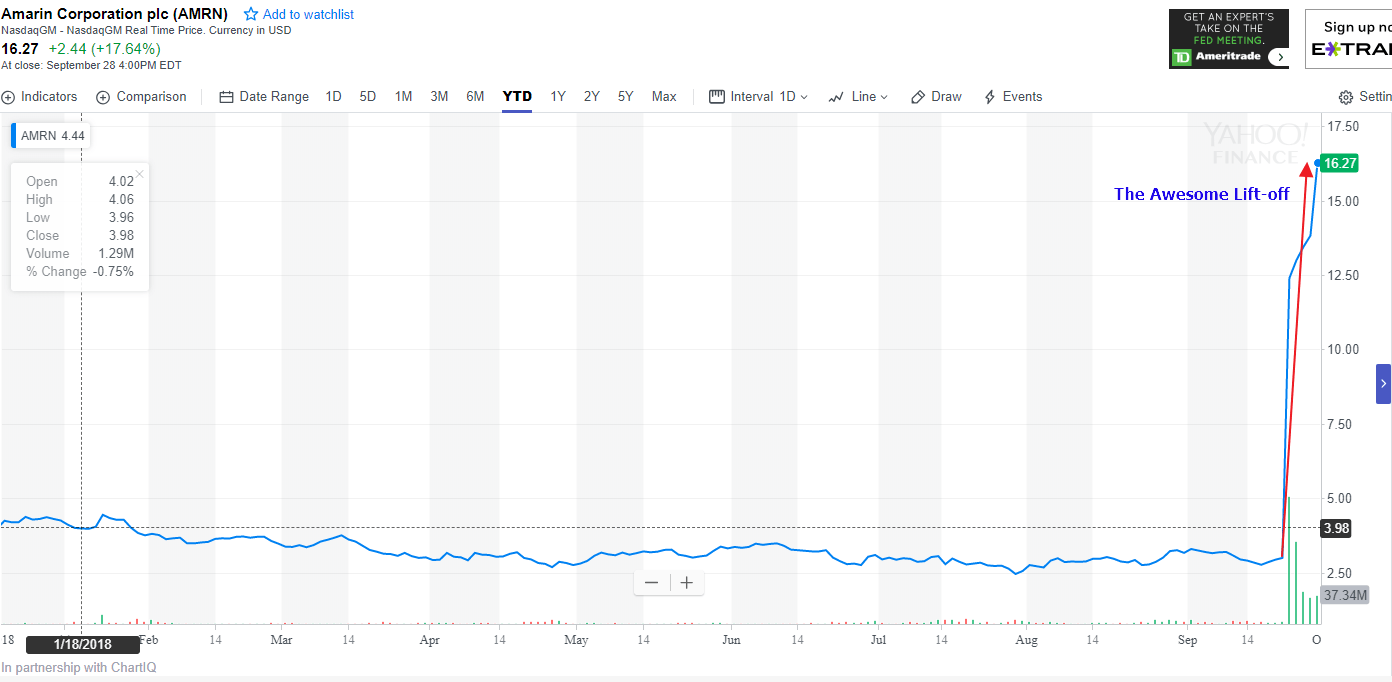 Source: Yahoo Finance
This example shows how a biotech stock can soar to the moon on a single day and then some based on a single news announcement.
The below case of Geron Corporation (GERN) shows the scary situations that biotech investors face.  On September 26, Geron announced that Johnson & Johnson (JNJ) had terminated a partnership venture with it. The exit of a deep-pocketed partner and future uncertainty caused the  stock by plunge by 68% on a single day. Earlier in the day the stock was down by 76%.
GERN Year-to-date return chart: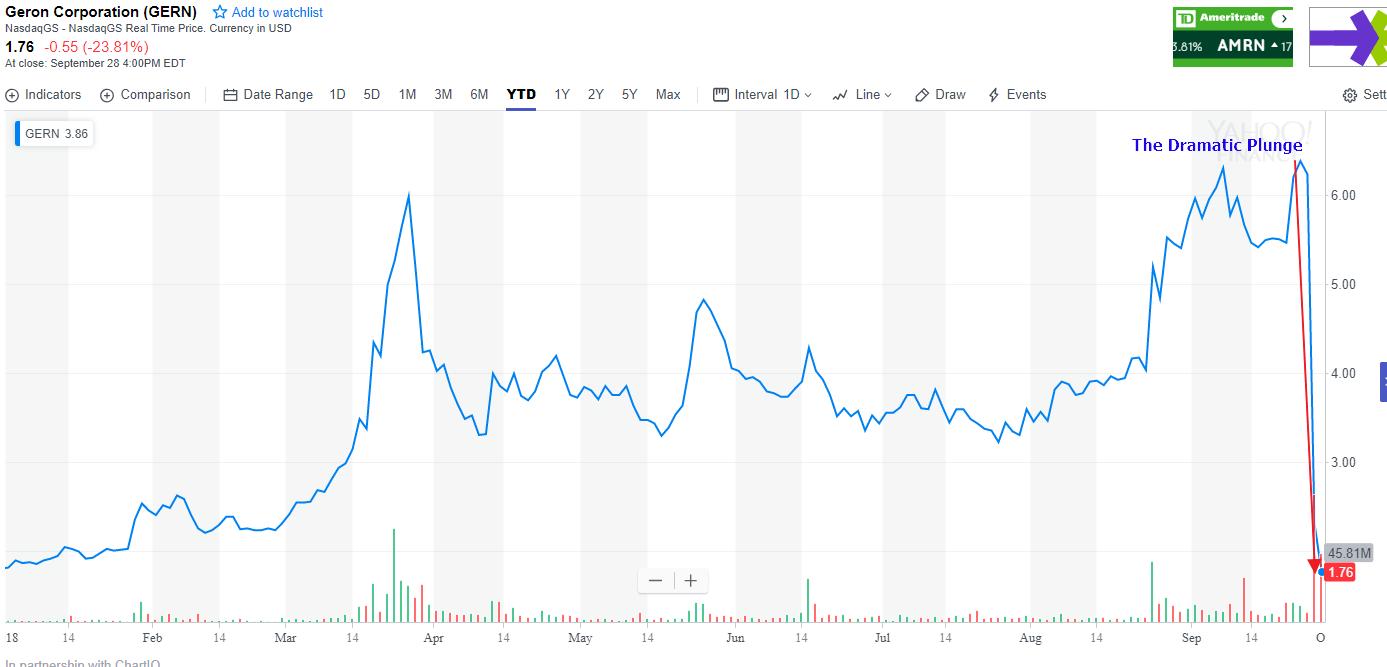 Source: Yahoo Finance
On Friday the stock further plunged another 22% in morning trading. The above YTD chart shows the dramatic selloff in Geron's shares.
The above two sample cases show that biotech stocks are not for the faint-hearted. Investors can earn wonderful returns or lose huge investments within a short period.
The key takeaway is investors in individual biotech stocks have to know the huge risks involved and diversify accordingly. A better option would be to avoid individual firms and simply buy an index fund.
Disclosure: No Positions