Dividend stocks have declined lately due to rising yields on US treasuries. As income investors can earn higher yields from treasuries income focused equity sectors like utilities, REITs and consumer staples have been less attractive. However a recent note at LeggMason says that investors can hold both treasuries and stocks to take advantage of both the asset types.
The following chart shows the comparative yields of 2-year, 10-year US treasuries and the 12-month yield on the S&P 500:
Click to enlarge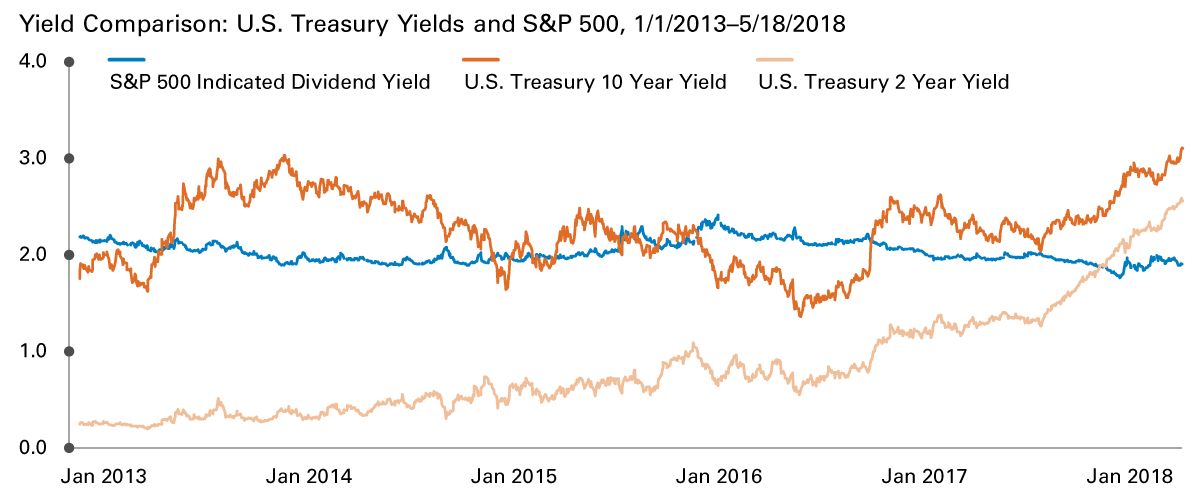 Source: Bloomberg, May 18, 2018 Past performance is no guarantee of future results. Indexes are unmanaged, and not available for direct investment. Index returns do not include fees or sales charges. This information is provided for illustrative purposes only and does not reflect the performance of an actual investment.
Source: YIELD OR INCOME? YES PLEASE, Legg Mason
From the LM article:
"For income investors, today's higher Treasury yields are growing more tempting, when compared to aggregate stock yields.
But today's rising rate environment actually makes both asset classes potentially more attractive, albeit for different reasons.
Over the past five years, the yield of the S&P 500 Index averaged a fairly steady 2.02%, despite some notable ups and downs.
By comparison, yields for 2- and 10-year U.S. Treasuries hit new 5-year highs, reaching 3.11% and 2.56% on May 16 and 17th, respectively.
But while bond prices do indeed fall when yields rise, the combined impact of falling prices and higher yields on total return is much more complex. The current environment could mean increased opportunities for higher-coupon income-producing assets. In fact, as coupons rise, the effect of dividends on total return could very well increase.
For equity investors, the relatively steady aggregate yield of the S&P 500 – during both rising and falling price periods over the past five years – has been supported by the improving financial health of its constituent companies. Both earnings and earnings payout ratios have increased."