The auto industry is one of the most important industries in the world. In developed countries such as those in Western Europe and North America, the auto industry is considered as a systematically important industry that gets bailed out even if a company goes bankrupt. However for investors the way to benefit from the industry is not to invest in auto makers but to invest in the parts makers that supply the various auto companies. These auto components have a solid business model whereby they provide the auto makers with various parts needed to build a new vehicle and also sell after-market parts when those vehicles get older.
I reviewed a Blackrock report on the automobile industry and its future.One chart that caught my attention from the report is the following showing the many industries related to the auto industry and their profit margins:
Click to enlarge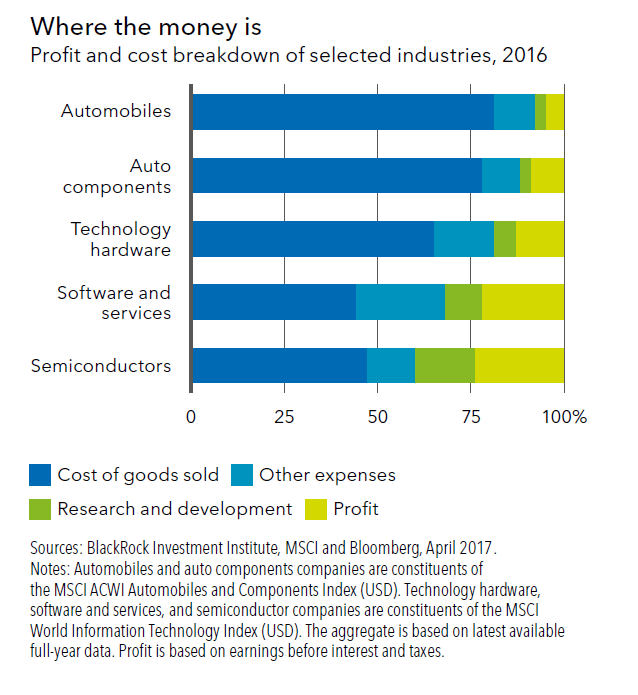 Source: Future of the vehicle –Winners and losers: from cars and cameras to chips, Blackrock
Five foreign auto parts suppliers to consider for further research are listed below with their current dividend yields:
1.Company: Valeo SA (VLEEY)
Current Dividend Yield: 1.74%
Country: France
2.Company: Magna International Inc (MGA)
Current Dividend Yield: 1.87%
Country:
3.Company: Denso (DNZOY)
Current Dividend Yield: 1.51%
Country: Japan
4.Company: Continental AG (CTTAY)
Current Dividend Yield: 1.52%
Country: Germany
5.Company: Autoliv Inc (ALV)
Current Dividend Yield: 1.75%
Country: Sweden
Note: Dividend yields noted above are as of Jan 26, 2018. Data is known to be accurate from sources used.Please use your own due diligence before making any investment decisions.
Some of the top US firms in the industry are: Lear Corporation(LEA), Delphi Technologies(DLPH),  BorgWarner Inc (BWA) and Visteon Corporation(VC).
Disclosure: Long ALV, CTTAY and MGA