Investors should always focus on their long-term goals and hold stocks for the long-term. Building fabulous wealth with equity investing needs patience and those investors that own stocks thru bull and bear markets are usually rewarded well by the market.
The following chart graphically shows the performance of UK equity market over many events since 2007:
Click to enlarge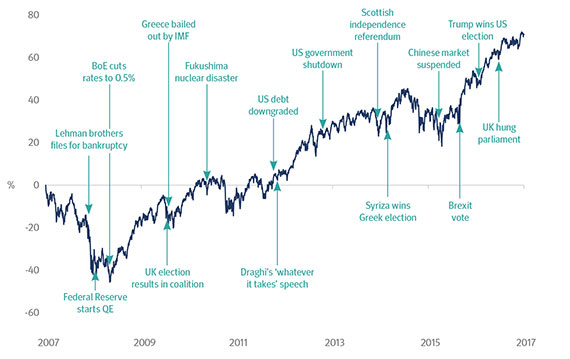 Source: Seven deadly sins of investing, Investment Times, Hargreaves Lansdown PLC
During the peak of Global Financial Crisis(GFC) the benchmark FTSE 100 fell under 3,900 in March, 2007. Since then it has strongly recovered and continues to perform well despite political drama such as Brexit. The index closed at 7,300 on Dec 1st, 2017.
The key takeaway is that investors are better of ignoring short-term noises and events and instead keep their attention on the long-term.
Related ETF:
iShares MSCI United Kingdom Index (EWU)
Disclosure: No Positions