Tech stocks have become a major sector in emerging markets. Up until now emerging markets have generally been known for commodities, consumer goods, manufacturing and financials. That is no longer the case as tech companies in emerging countries are growing faster, getting more innovative and in some cases beating their developed market peers.
In the developed world especially in the US, tech stocks have soared to astonishing levels this year. For equity investors in this sector, it feels like 1998-1999 all over again. Experts predict that this time it is different. Investors have been gobbling up shares of Alphabet, Amazon, Facebook, Netflix and Apple like there is no tomorrow. The year-to-date returns (including dividends) of these stocks are listed below:
Alphabet – 32%
Amazon – 52%
Apple – 50%
Facebook- 56%
Source: When a 10% Gain Makes You Feel Like a Loser, Jason Zweig, WSJ
In the emerging world, the dominance of tech sector has steadily increased for many years now as shown in the following chart: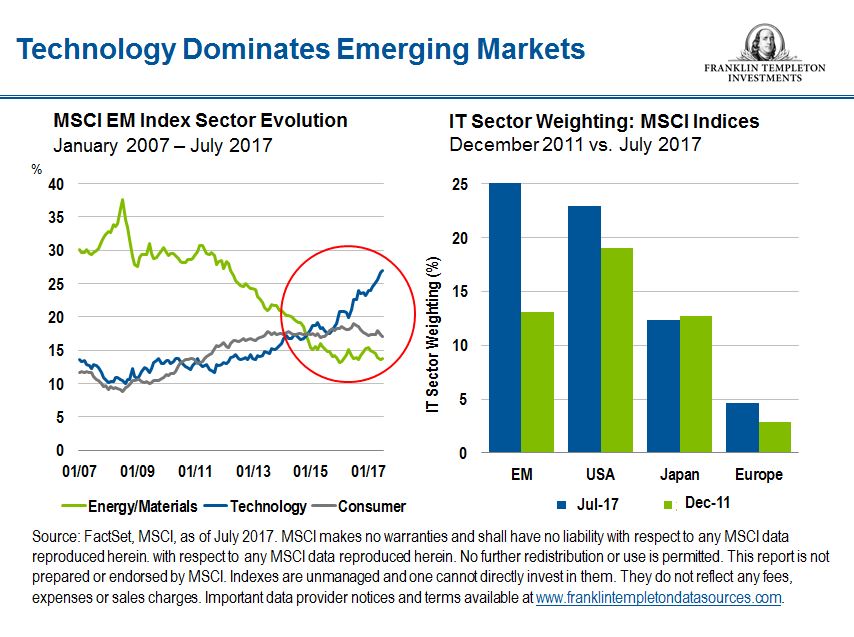 As I mentioned above emerging market tech firms are more innovative than before as well as the number of patents filed has increased. The following chart shows the global patents registered by emerging vs. developed markets: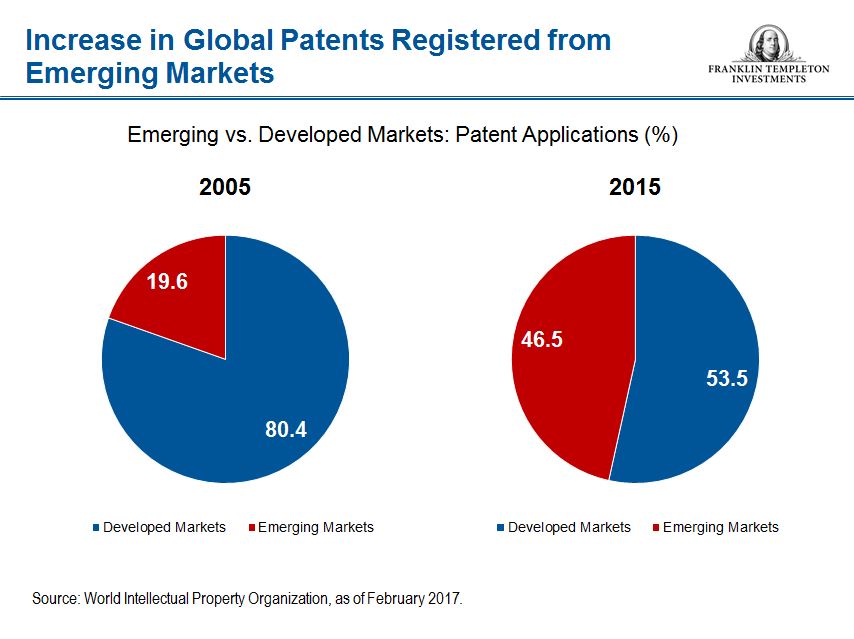 Source: Structural Growth Drivers Behind Emerging-Market Economies by Carlos Hardenberg, Franklin Templeton Investments
So which emerging tech companies are driving growth and are worth looking into?
Some of the major emerging tech titans trading on the US markets are listed below for further research:
Many of the other tech firms like Hon Hai, Foxconn, Samsung, Mediatek, etc. do not trade on the US exchanges.
Related ETFs:
Earlier:
Disclosure: No Positions