Emerging market equities have been some of the worst performers in recent years. From political chaos to corruption and everything in between many of these markets have let down investors. Hence many investors have avoided emerging markets like the plague. According to an article at iShares, over the past 5 years as of September, 2022 emerging markets have earned just 1.1% while US stocks soared during the same time period. No wonder global investors have thrown in the towel on these markets. In an ideal scenario, emerging markets should produce a higher rate of return than the less risky developed equities. However this has not been the case.
Despite the awful returns in the past few years, emerging market stocks are worth holding when considered over the long run. The following chart shows the performance of S&P 500 and emerging markets over two decades:
Click to enlarge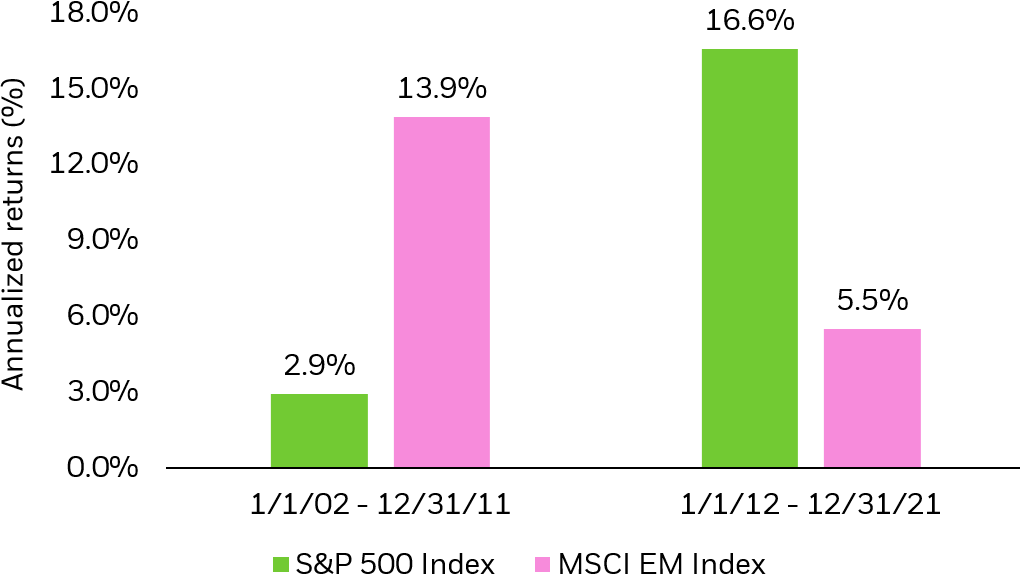 Source: How to invest in emerging markets in volatile times, iShares
We may never know how emerging equities will perform this year or the next. To avoid missing out on an spectacular gains it is wise to allocate a small portion of one's assets to these markets. That way if they underperform again one doesn't lose much but can reap the benefits if they go the other way.
Related ETFs:
Disclosure: No positions