The tech sector in the US equity market has soared to astronomical levels this year. In terms of equity returns, the sector as a whole has risen more than double that of the S&P 500 so far this year. Most investors seem to have forgotten about the dot com crash and are placing their hopes on the next tech boom with things like Artificial Intelligence(AI), Cloud, Internet 2.0, e-Commerce 2.0, Self-driving cards, Internet of Things, etc. Retail investors and institutions have been piling into tech stocks in fear of missing out the boom. Long dead tech stocks like those in the semiconductor space have also shot up catch the tech craze among investors. For example, chip maker NVIDIA Corporation (NVDA) is up nearly 60% year-to-date.
Though most investors are bullish on the sector, short-sellers are betting that these over-hyped stocks are due for a fall. According to an article at Schroders today, of the 12 most-shorted stocks in the US market, 9 stocks are from the tech sector. From the article:
Short-sellers get their teeth into FANGs

Eight out of the 12 most-shorted stocks in the US are from the tech sector, and the short interest is growing, according to latest data from S3 Partners.

If, as is frequently argued, Elon Musk's Tesla is categorised as a tech stock rather than a car manufacturer, that figure rises to nine out of 12.

Investors "short" a stock when they expect the price to fall.

The tech sector, which includes the so-called "FANG" quartet of Facebook, Amazon, Netflix and Google (now Alphabet), has outperformed strongly in recent years. As a result, valuations have risen to levels that make some investors (including our Value team) nervous.

Year-to-date as at 29 August the S&P 500 North American Tech Sector index has risen 22.5%, compared to a return from the broad S&P 500 of 10.6%, according to Bloomberg. Over three years the respective numbers are 64% versus 36%.

Past performance is not a guide to future performance and may not be repeated.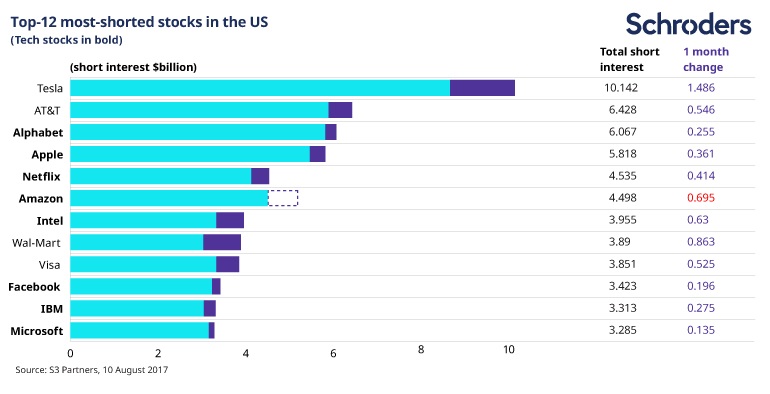 Source: Chart attack: Seven market snapshots from August, Schroders
The key takeaway for investors is that caution is warranted with investing in tech stocks at the current levels.
Disclosure: No Positions