Gold prices closed at $1,280 an oz. today. After a few years of steady decline prices have been slowly climbing back up. In general, gold is considered as a safe haven asset as gold tends to be strong when equities fall. According to a recent article at Schroder's gold does in fact performs well in weak equity environments. From the article:
If we look at history for guidance, then we see gold has the potential to perform very well in periods of stockmarket weakness.

Gold's perceived "safe haven" status is well-supported with hard evidence. For example, if we look back at gold price performance between 1961 and July 2017 (see chart 1 below), it is very clear that gold price annual returns were positive, particularly during periods of high inflation, while stockmarket returns were negative.

We see no reason why this relationship should not continue in the future; an argument for holding a minimum weighting in gold or gold equities in a well diversified portfolio. It is important to remember, however, that past performance should not be used as a guide to future performance.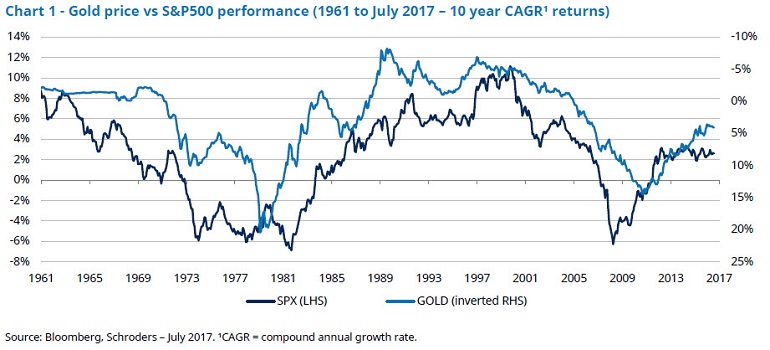 Source: Market complacency could bolster case for gold by James Luke and Mark Lacey, Schroder's
Related ETF:
Disclosure: No Positions