In a post yesterday I discussed about the elevated levels of US stocks. In today's article let us take a look at how emerging stocks are cheaper compared to US stocks based on a recent research report.
From a research report by Charlie Wilson,Phd , Portfolio Manager at Thornburg Investment Management:
Despite the improvement in underlying earnings quality and the nascent recovery, the forward P/E multiple for the MSCI EM Index isn't stretched. The 2018 earnings multiple of 11.4x (as of June 28, 2017) sits just above the 10-year average of 11.2x. This is hardly stretched relative to the history of the index or global equities in general. After five strong years of U.S. equity-performance, the MSCI EM Index remains at a large discount to the S&P 500 even after the recent recovery (the S&P 500 is valued at 18.7x currently)(Figure 8). That discount has continued to increase even during the recent emerging markets rally. As you can see, for a variety of reasons, the MSCI EM Index has room to run.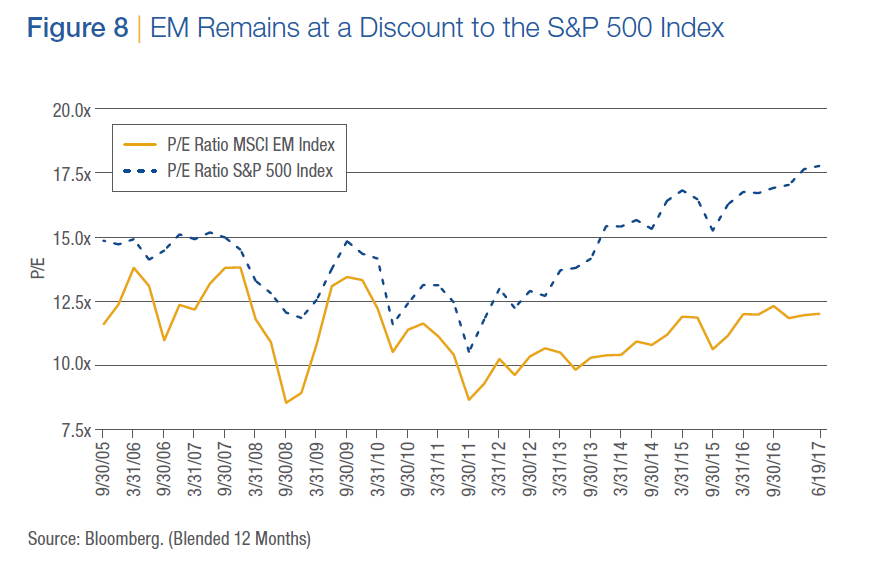 Source: Rally in Emerging Market Equities Peaking, or Just Beginning?, Thornburg Investment Management
Emerging stocks can be highly volatile but in the long-term they have yielded higher return than developed markets. In addition, though developing countries have smaller economies than many larger developed economies, the economic growth rate is higher in emerging than developed countries. So in order to profit from the growth opportunities it is wise to invest in emerging stocks.
Five stocks from emerging markets are listed below for further research:
1.Company: Banco de Chile (BCH)
Current Dividend Yield: 3.28%
Sector:Banking
Country: Chile
2.Company: Enel Generacion Chile SA (EOCC)
Current Dividend Yield: 7.74%
Sector:Electric Utilities
Country: Chile
3.Company: Ultrapar Participacoes SA (UGP)
Current Dividend Yield: 2.24%
Sector: Oil, Gas & Consumable Fuels
Country: Brazil
4.Company: HDFC Bank Ltd (HDB)
Current Dividend Yield: 0.58%
Sector: Banking
Country: India
5.Company: PetroChina Co Ltd (PTR)
Current Dividend Yield: 1.42%
Sector: Oil & Gas
Country: China
Note: Dividend yields noted above are as of July 7, 2017. Data is known to be accurate from sources used.Please use your own due diligence before making any investment decisions.
Disclosure: No Positions