The UK general election is scheduled to take place tomorrow (8 June 2017). After the surprising Brexit vote last year this will be the major political event in the country. British stocks have performed well in the past under conservative leadership than labour according to an article I came across recently.
The following chart shows the growth of 1,000 British Pounds since 1970:
Click to enlarge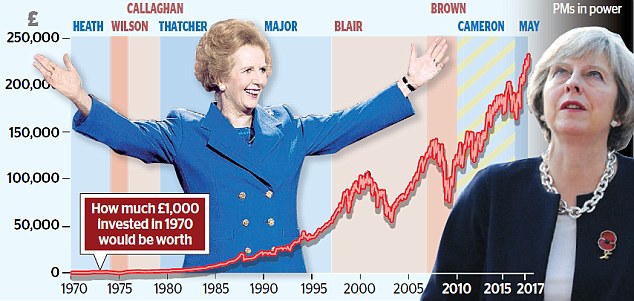 Source: Where to invest your cash after the election, This is Money
A £1,000 invested in the UK stock market in 1970 would now be worth £232,000 now. That is a return any long-term investor would love to earn. However such returns may not be attainable in the future. During Thatcher's rule much of the British public services were privatized and financial regulations overhauled leading to soaring stock prices.
From the article:
'Since 1970, stocks have performed better under Conservative governments than under Labour, though share prices have been driven by global market forces rather than domestic politics,' said Laith Khalaf, senior analyst at Hargreaves Lansdown.

'Irrespective of who has been in power, the stock market has by and large risen regardless, posting positive performance during ten of the last 12 governments.'
From an investment standpoint the above chart shows that British stocks perform well in the long-term.
Related ETF:
iShares MSCI United Kingdom Index (EWU)
Disclosure: No positions