The total number of U.S. listed companies has continued to fall since the 1990s. From 1980 thru 1996 the number of listed companies rose steadily. But since then the number has declined year-after-after. The consequences of the low number of listed companies available for investors is huge. According to a research report from Credit Suisse, the number of listed US companies has fallen from 7,322 in 1996 to just 3,671 in 2016.
Click to enlarge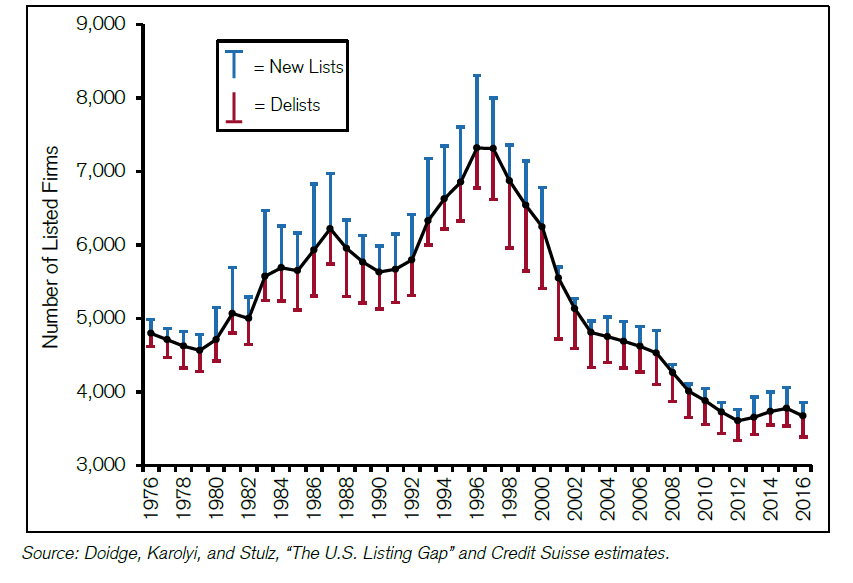 Sources:
The Causes and Consequences of Fewer U.S. Equities, Credit Suisse
The Case of the Missing U.S. Stocks by Frank Holmes, U.S. Funds
Some of the consequences of the low number of listed companies are:
Billions and billions of capital chasing investment opportunities find very options in the US market. This leads to a stampede in popular names like Amazon(AMZN), Facebook(FB), Alphabet(GOOG), Netflix(NFLX), Apple(AAPL), etc. and also some traditional  large-cap companies leading to sky-high valuations.
According to Frank Holmes of US Funds, since the US is the world's largest equity market, low listed companies has huge implications.
From 1996 thru 2016, the number of listings has declined by 50%.
Private-equity investors are reaping incredible profits as public investors scramble to find opportunities in the markets. This is because private equity can keep companies private and earn profits to themselves or take public firms private leading to the continued decline in listings.
M&A activity has also contributed to the issue since large caps gobble up smaller companies at an alarming rate without worrying about things like anti-trust regulations as regulators and politicians look the other way.
Another impact is the scary ride that investors are subjected to in most US IPOs. Companies going public reach astronomical stock prices only to crash to fair levels in a few months as investors exit their positions looking for other investments. Firms with low to no profits and questionable products or businesses are also taken public. They hype surrounding the rare companies that go public are also awful.
Download Report: Listed US companies Report by Credit Suisse (in pdf format)