Bank stocks in the US have been in doldrums for many years now since the Global Financial Crisis(GFC). Investors mostly avoided them as a mountain of new regulations and ultra-low interest rates pressured their earnings quarter after quarter. But with the dramatic victory of President-elect Trump bank stocks have soared. In the two days since the victory banks have rocketed to record highs.
The chart below shows the jump in the KBW Nasdaq Bank Index which is the proxy for banks:
Click to enlarge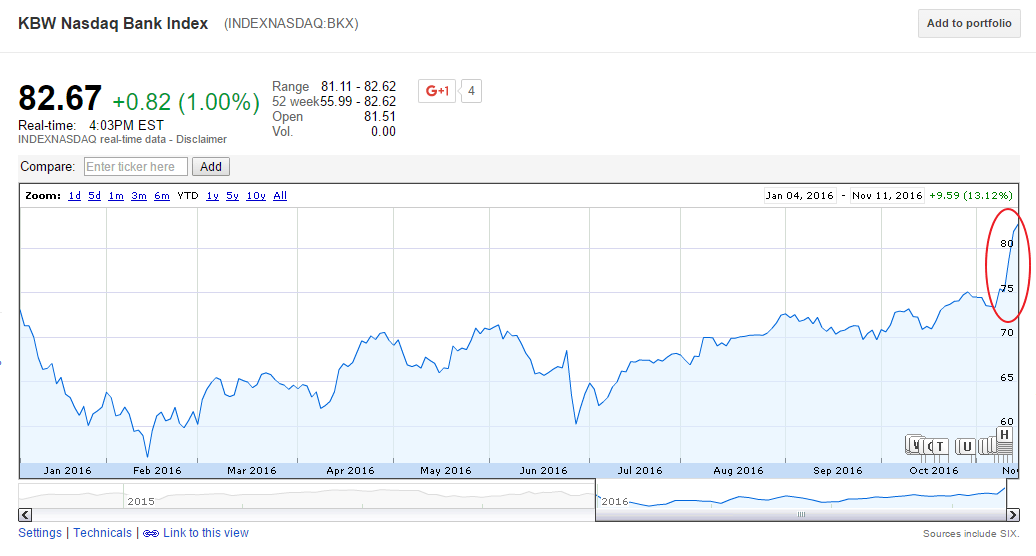 Source: Google Finance
As of market close Nov 10th, while the S&P 500 was up by 6% year-to-date  the KBW Bank Index has shot up by 12%.
Three of the main factors that favor bank stocks now include:
Elimination or weakening of the Dodd-Frank rules implemented after the crisis,
The Federal Reserve raising the interest rate sooner rather than later.
Significant reductions in the power of the Consumer Financial Protection Bureau (CFPB)
Among the hundreds of banks publicly-listed regional and community banks are poised to benefit the most under President Trump's administration.
The complete list of bank stocks trading on the NYSE can be found here.
The complete list of bank stocks trading on the NASDAQ can be found here.