Investors hunting for income stocks should consider New Zealand. Dividend payout ratio in the country is one of the highest in the world. In 2015, the ratio was 84%. This figure leaves the 48% payout ratio of US firms in the S&P 500 in the dust.
Similar to Australia, New Zealand also has the policy of imputation on dividends. This simply means investors receive a tax credit for all or some of the taxes paid by a company. In the US and other countries, a company's earnings are taxed twice – once when a company pays its taxes and then when an investor pays taxes on dividends received.
The dividend payout ratio of New Zealand vs. select major indices in 2015:
Click to enlarge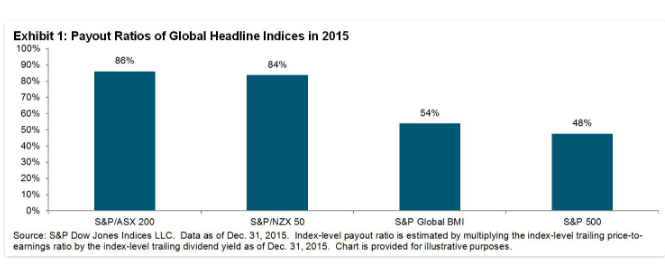 Source: Why a New Zealand Dividend Strategy Now?, Tianyin Cheng, Indexology
The importance of high dividend payout ratios can be confirmed by the total return of equities over the long term. This is because high dividend payouts should give a strong boost to total returns even when price appreciation is average or below normal. In the case of New Zealand, dividends reinvested accounted for about 60% of the total return of benchmark S&P/NZX 50 Index between Jan 3, 2001 and Aug 31, 2016. Another 18% was due to reinvestment of imputation.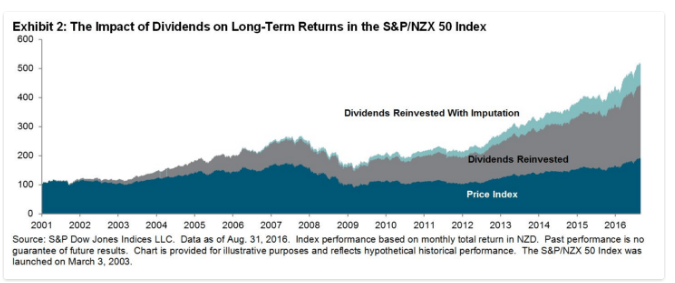 How invest in New Zealand stocks?
The simplest and easiest way for US investors to access NZ stocks is via the iShares MSCI New Zealand Investable Market Index Fund (ENZL).
None of the NZ stocks trade on the organized exchanges. But about 39 firms from the country trade on the OTC markets.
Disclosure: No Positions