US investors looking to gain exposure to Asian equities should consider investing in Singapore. Unlike its neighbor Malaysia, the country is a well developed with a GDP per capita comparable to wealthy developed countries. Though China is a major trading partner, Singapore is diversified in terms of exports and imports with other major countries including the U.S.
For American investors Singapore is an excellent destination to find investment opportunities. Two of the reasons for investing in Singapore stocks are listed below:
1.Singapore stocks have the second highest dividend yield among Asian countries as shown in the following graph:
Click to enlarge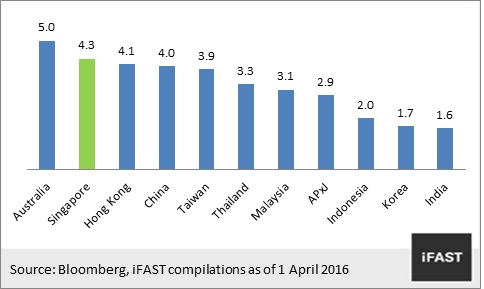 Source: Nikko AM Singapore Dividend Equity Fund: Our First ASEAN CIS Passport Fund On Board! by  Lee Tien Xiang, Nikko AM
Only Australia offers higher dividend yields than Singapore in Asia. In addition, the market has gained a cumulative total return of 27.6 % over the past 5 years as of April 1st this year.
2.Singapore is one the few developed countries that charges no withholding taxes on dividends paid to foreign investors. Hence investors will receive the full dividend amounts paid by Singapore corporations.
Five Singapore stocks are noted below with their current dividend yields for further research:
1.Company: DBS Group Holdings Ltd (DBSDY)
Current Dividend Yield: 3.77%
Sector: Banking
2.Company: United Overseas Bank Ltd (UOVEY)
Current Dividend Yield: 3.66%
Sector: Banking
3.Company: Singapore Telecom (SGAPY)
Current Dividend Yield: 5.57%
Sector: Telecom
4. Company:Keppel Corp (KPELY)
Current Dividend Yield: 6.24%
Sector:  Industrial Conglomerate

5.Company: Singapore Airlines Limited (SINGY)
Current Dividend Yield: 2.40%
Sector: Airlines
Note: Dividend yields noted above are as of June 29, 2016. Data is known to be accurate from sources used.Please use your own due diligence before making any investment decisions.
Disclosure: No Positions