The Australian equity market is under-performing this year with the benchmark S & P/ASX 200 down 5.5% year-to-date. Australian stocks have been bit due to the ongoing slowdown in China. As Australia is a major trade partner of China primarily exporting commodities, the slowdown in Chinese economy has adversely impacted Australia.
Though Australian stocks are down this year, income investors with a long-term horizon of 5 years or more can take advantage of the lower prices and accumulate shares at current levels.
Some of the reasons to buy and hold Australian dividend stocks are listed below:
Australia has the highest dividend yield among major equity market as shown in the chart below:
Click to enlarge
At 5.5%, the yield is more than double that of the S&P 500 is around 2%.
Dividend payouts by Australian firms are some of the highest in the world. The following chart shows the historical dividend payout ratio: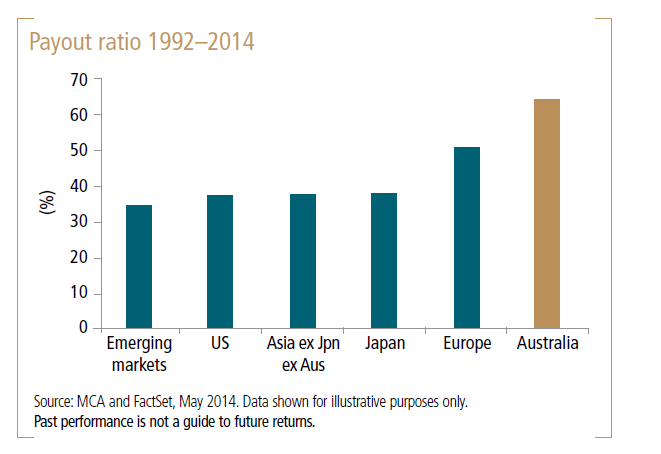 Australian firms did not cut their dividends aggressively even during the global financial crisis.
Banks and insurers are steady and consistent dividend payers.
In the banking sector, Commonwealth Bank of Australia, Australia & New Zealand Banking Group Ltd. and Westpac Banking Corp are projected to increase payouts this financial year.
Unlike other developed countries, Australia has not implemented Quantitative Easing (QE) programs. This is positive for the currency and the economy as a whole in the long-term.
Australian tax system encourages the payment of dividends and does not ding investors with double taxation of dividends.
Five Australian stocks trading on the US markets are listed below with their current dividend yields for further research:
1.Company: Westpac Banking Corp (WBK)
Current Dividend Yield: 5.88%
Sector:Banking
2.Company: Australia and New Zealand Banking Group Ltd (ANZBY)
Current Dividend Yield: 7.31%
Sector:Banking
3.Company: Telstra Corp Ltd (TLSYY)
Current Dividend Yield: 5.56%
Sector:Telecom
4.Company: National Australia Bank Ltd (NABZY)
Current Dividend Yield: 7.39%
Sector:Banking
5.Company:Commonwealth Bank of Australia (CMWAY)
Current Dividend Yield: 7.84%
Sector: Banking
Sources: 
Australian Stocks' Worst-Ever Start Has Investors Eyeing Payouts, Bloomberg, Jan 12, 2016
Note: Dividend yields noted above are as of Mar 29, 2016. Data is known to be accurate from sources used.Please use your own due diligence before making any investment decisions.
Disclosure: Long NABZY and WBK