Myanmar can be considered as one of the latest entrant to the category of frontier markets. For many decades the country formerly known as Burma was a closed economy run by a military junta. After many elections and years of waiting the Burmese yearning for democracy is slowly taking shape as Myanmar open its economy to domestic and foreign investors. Burma used to be famous for its high-quality rice, teak wood, precious gems, etc.
Myanmar's stock exchange started trading on March 25, 2016. The Yangon Stock Exchange(YSX) opened for business with just one listing.  From a Deutsche Welle article:
"We can now proudly and mightily proclaim to the world that we are no longer a backward nation,' Maung Maung Thein, the head of Myanmar's Securities and Exchange Commission, told a group of business elites who had gathered at the Yangon Stock Exchange's refurbished colonial-era headquarters in downtown Yangon.
Here are few facts about the stock market of Myanmar:
Only one company is listed on the exchange. First Myanmar Investment Co, known as FMI, is a conglomerate operating in financial-services, real-estate and health-care industries. After the first day of trading, FMI had a market cap of $598 million.
FMI has a sister firm that is listed in Singapore.
Cambodia's stock exchange opened in 2012 and has only three firms listed.
Five companies trade on the Laos stock exchange.
Regional markets such as Thailand and Vietnam have 517 and 307 firms listed.
Relevant websites:
Sources: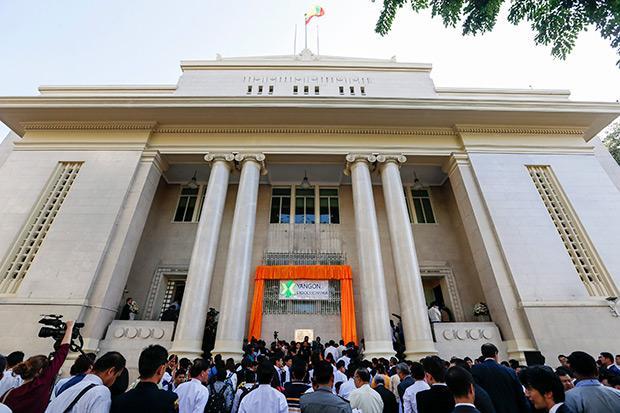 Yangon Stock Exchange, Yangon, Myanmar