The iShares UK ETF(EWU) is the wrong way to gain exposure to the UK economic recovery because of the unique structure of the British equity market.For most countries, the single country ETF such as the EWS for Singapore is the best way to gain exposure to that market. However that logic should not be be applied for UK.
EWU aims to track the performance of the MSCI United Kingdom Index. This index is similar to the benchmark FTSE 100 index. The MSCI index  is designed to measure the performance of the large and mid cap sectors of the UK equity market.
The Top 10 constituents of the MSCI UK Index are shown below:
Click to enlarge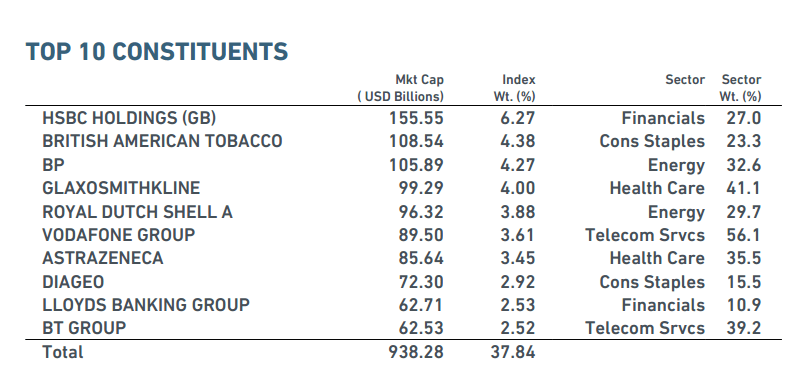 Source: MSCI
The Top 10 holdings account for about 38% of the index.
The Top 10 holdings of the iShares UK ETF(EWU) are shown below:
Click to enlarge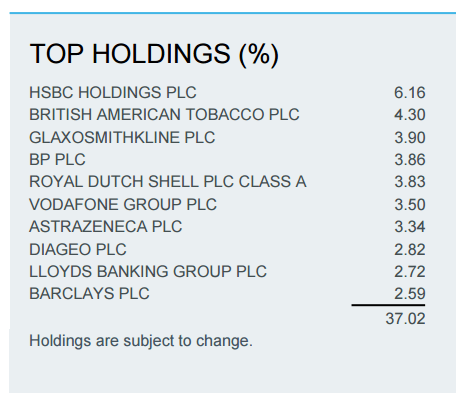 Source: iShares
The ETF's top 10 holdings account for 37% of the fund which is almost the same percentage as the MSCI Index.
It will well know that most large-cap British companies derive most of their revenues from outside of the UK. Or put to another way, investing in large-cap UK firms will not give exposure to the UK ecconomic recovery. The performance of the large firms depends on the global economy and not the British economy. For instance, a FTSE-100 mining company has most it operations in emerging countries and not in UK. So the best way to profit from UK economic recovery is not to invest in the large-cap firms but small and mid-cap firms. The chart below shows the percentage of revenues sourced from UK for four UK indices:
Click to enlarge

Source: A fresh take on UK equities,  JP Morgan
The chart shows FTSE 100 firms generate only 20% of the revenues from domestic economy.
The Top 5 of the FTSE-100 Index are listed below:

These firms – HSBC Holdings(HBC), British American Tobacco(BTI), BP(BP), GlaxoSmithKline(GSK) and Royal Dutch Shell A(RDS-A) – exactly match the top five of the top 10 holdings in the iShares ETF.
So by investing in EWU an investor is getting only 63% exposure of the British economy or a bit more due to the 20% revenues from large-cap firms from the UK. In addition, out of the total of 112 components in EWU many others are also large-cap firms such as Imperial Tobacco, Standard Chartered Bank, Unilever, etc. which generate a high portion of their revenues from markets outside of the UK.
Disclosure: No Positions