Consuming high quantities of sugar is not good for health. For example, obesity is a major disease affecting millions of people especially in developed countries. Obesity is one type of metabolic syndrome. Metabolic syndrome is caused by excessive sugar intake. Some of the other diseases classified under metabolic syndrome are type 2 diabetes, hypertension, coronary heart disease, lipid abnormalities, cardiovascular disease, non-alcoholic fatty liver disease, polycystic ovarian disease, cancer and dementia.
The following chart shows the growth rate of obesity in select countries:
Click to enlarge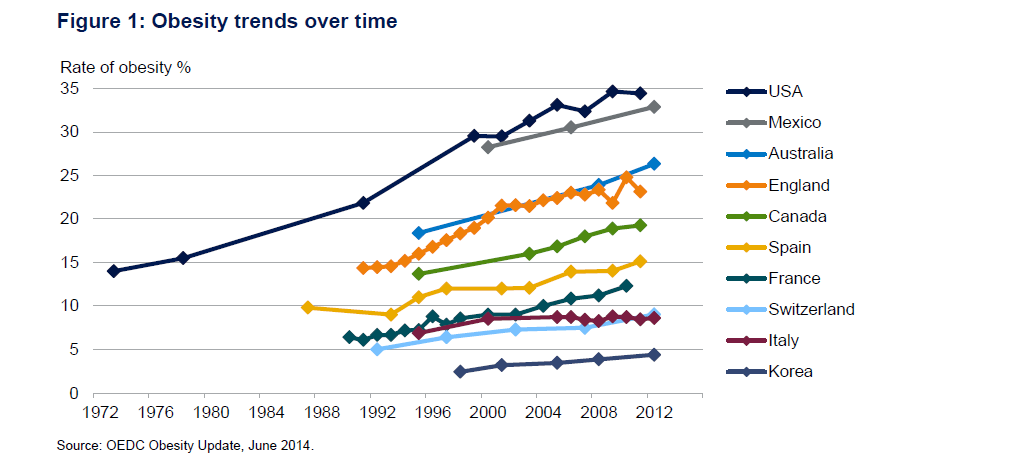 Source: Is sugar turning Big Food into the next Big Tobacco? by Elly Irving, Schroders
Sadly the US tops the chart as obesity has grown steadily since the 1970s. Countries like Canada were at the same level as the US at that time. However Canadians have maintained a healthy lifestyle and the obesity growth rate is nearly half of Americans. Some of the reasons for lower obese rate in Canada can be attributed to strict government regulations that are visible to anyone that traveled north of the US border. In a fast food restaurant for example, pop fountains are kept behind the counter to prevent consumer from drinking unlimited quantities of sugary drinks and straws for drinks are thin in size to prevent consumer from guzzling drinks like an SUV does with gasoline. In the US on the other hand, straws tend to be thicker so that one drinks more in a single sip. In addition, drink fountains are kept outside of the counters so that consumers can drink as much as they want. There are thousands of other factors that one can identify that indirectly contribute to Americans being obese such as lack of footpaths in neighborhoods, food portion sizes in restaurants, etc.
The economic impact of metabolic syndromes such as obesity are huge with Lower productivity, more sick days, high absenteeism, etc. Billions of dollars are wasted in healthcare spending as well.
Seeing the negative impacts of obesity American consumers are changing their eating habits. More and more consumers are choosing healthier options than sugary and fatty foods. As a result, companies that offer healthier foods are growing their market shares grow while companies that offer sugary drinks and fatty foods are seeing red. Companies such as Coca Cola(KO) and Pepsi(PEP) are victims of the growing consumer preference for healthier foods.
The table below shows the growth rate of food and beverage companies over a four-year period:
Click to enlarge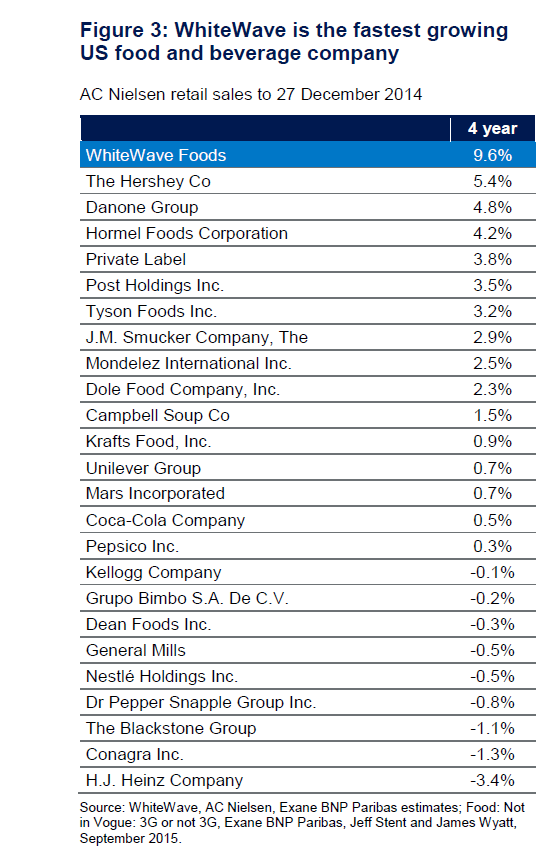 US-based The WhiteWave Foods Company (WWAV), is the fastest growing company in the US food and beverage sector over the four-year period. Here is a brief description of WhiteWave:
The WhiteWave Foods Company, a consumer packaged food and beverage company, manufactures, markets, distributes, and sells branded plant-based foods and beverages, salads, fruits and vegetables, coffee creamers and beverages, and dairy products and organic produce in North America and Europe. It operates in three segments: Americas Foods & Beverages, Americas Fresh Foods, and Europe Foods & Beverages. The Americas Foods & Beverages segment offers plant-based foods and beverages, such as soymilk, almond milk, and coconut milk under the Silk and So Delicious brands; dairy products, including Horizon Organic milk, yogurt, cheese, and other dairy products, as well as Horizon branded macaroni and cheese, and snack foods; and coffee creamers and ready-to-drink beverages under the International Delight and LAND O LAKES brands. The Americas Fresh Foods segment provides packaged salad greens, fresh and frozen fruits and vegetables, dried fruits, and produce-based snacks under the Earthbound Farm brand. The Europe Foods & Beverages segment offers beverages using soy, almond, coconut, hazelnut, rice, and oat based ingredients under the Alpro and Provamel brands.
Source: Yahoo Finance
Whitewave has a $7.0 billion market capitalization and the stock is up 138% in a five year period as of Dec 25, 2015.
According to Elly Irving, the author of the research report, chocolate company Hershey(HSY) is the 2nd rank due to the acquisition of Krave, the the meat and high-protein snacks business.
Disclosure; Long General Mills
Updates: