Governments in some countries own major stakes in private companies.This type of state ownership is not only limited to emerging countries but is prevalent in developed countries as well.
The table below shows the The Top 10 Non-Financial State-Owned Multi-National Companies ranked by foreign assets:
Click to enlarge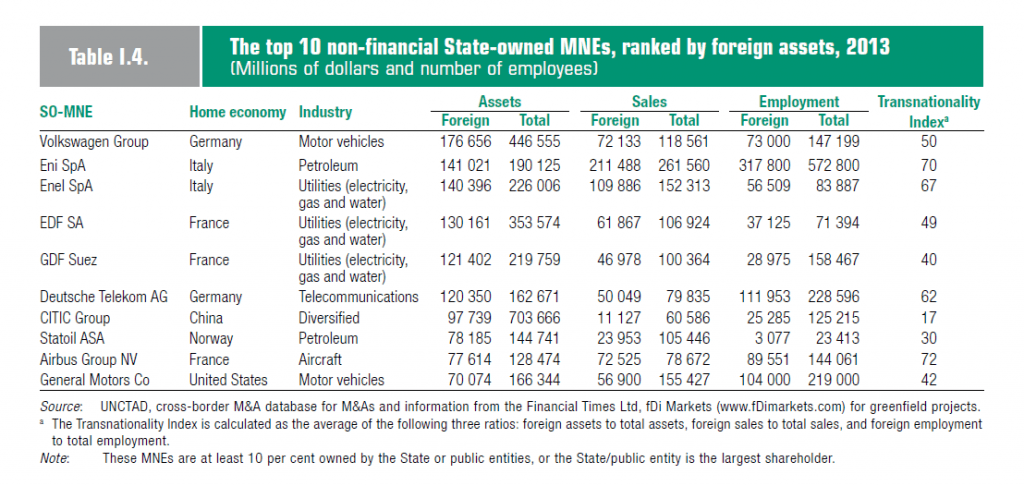 Source: World Investment Report 2015, UNCTAD
Volkswagen(VLKAY) is the number one state-owned multi-national Enterprise(SO-MNE) in terms of foreign assets.The German state of Lower Saxony is a large shareholder in the company with a stake of 20%.
Ownership structure of Volkswagen:
Current voting rights distribution (as at December 31, 2014)
Porsche Automobil Holding SE, Stuttgart – 50.73%
State of Lower Saxony, Hanover – 20.00%
Qatar Holding – 17.00%
Others – 12.30%
Source: Corporate site
Currently Volkswagen is in trouble in the US and other countries due to cheating on emission tests. In the past two days billions in market cap haven been wiped out as the stock plummeted.Nearly half of its total workforce is in foreign countries. Europe and China are the two largest markets for the company in terms of sales.
France has large stakes in the utilities EDF (ECIFY) and GDF Suez(GDFZY).
The US used be the largest shareholder in General Motors(GM) when it bailed out the auto maker from collapse> but a couple of years ago the US sold its last remaining stake and is no longer a shareholder in GM. At the time of the bailout GM was aptly nicknamed the "Government Motors".
Related:
Disclosure: No Positions