Investors looking for dividend stocks can consider adding foreign dividend payers to their portfolios. Going abroad pays dividends in more ways than one. For example, not only one can earn higher yields but also benefit from global diversification.Three reasons for adding foreign dividend stocks are discussed below.
1. Dividend Yield:
The dividend yield of most US stocks is notoriously low. The dividend yield of the S&P 500 is around 2%. It has been at this level for many years now. Though one can higher yields in certain sectors such as utilities, in general dividend yields are usually lower in the US market. Compared to the low 2%, an investor can get much higher yields in countries such as Singapore, the UK, Canada, Australia, etc. It is also possible avoid dividend withholding taxes in some cases. So there is no reason to avoid foreign income stocks.
2. Dividend Payout Ratio:
The payout ratio is also lower in the US compared to other developed markets. This is because US firms traditionally prefer to retain profits and reinvest for growth or hoard profits if the management is unable to put the funds to use. Since most investors including large institutional investors prefer price appreciation to income, the current dividend payment mentality suits for companies as well.
Click to enlarge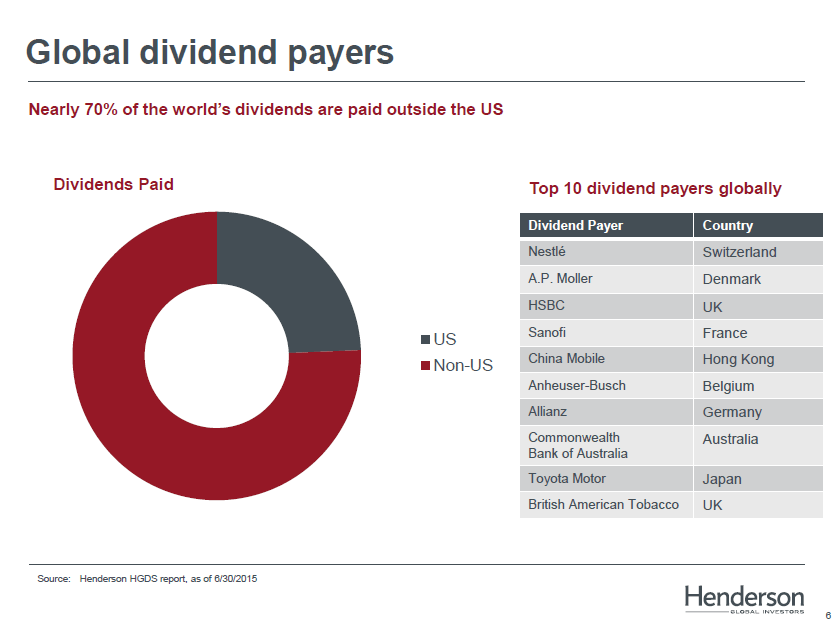 3. Dividends paid – US vs. abroad:
According to a study by Henderson Global Advisors, nearly 70% of the world's dividend payments are paid by firms outside the US.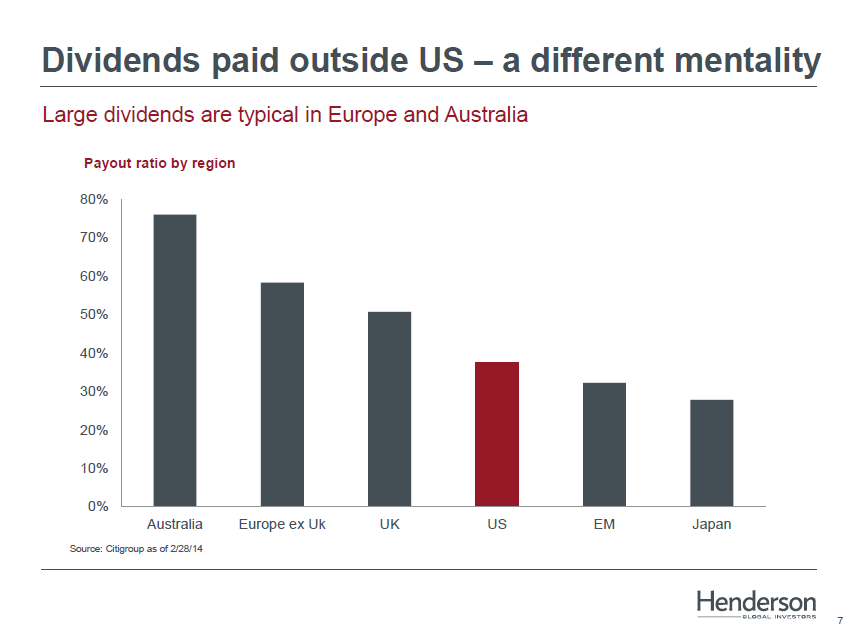 NOTE: The 10 firms listed above are based on dividends paid in Q2, 2015
Source: Going Global Could Pay Dividends, Henderson Global Advisors, Sept 2015
Ten global dividend stocks are listed below with their current yields for further research:
1.Company: Singapore Telecom (SGAPY)
Current Dividend Yield: 4.76%
Sector: Telecom
Country: Singapore
2.Company: Sanofi (SNY)
Current Dividend Yield: 3.26%
Sector: Pharmaceuticals
Country: France
3.Company: Allianz SE (AZSEY)
Current Dividend Yield: 4.97%
Sector:Insurance
Country: Germany
4.Company: Nestle SA (NSRGY)
Current Dividend Yield: 3.00%
Sector: Food Products
Country: Switzerland
5.Company: British American Tobacco PLC (BTI)
Current Dividend Yield: 4.17%
Sector:Tobacco
Country: UK
6.Company: AXA Group (AXAHY)
Current Dividend Yield: 4.37%
Sector: Insurance
Country: France
7.Company: Edp Energias De Portugal SA (EDPFY)
Current Dividend Yield: 6.09%
Sector: Electric Utilities
Country: Portugal
8.Company: DBS Group Holdings Ltd(DBSDY)
Current Dividend Yield: 3.61%
Sector: Banking
Country: Singapore
9.Company: Nordea Bank AB (NRBAY)
Current Dividend Yield: 5.83%
Sector: Banking
Country: Sweden
10.Company: Rogers Communications Inc (RCI)
Current Dividend Yield: 4.14%
Sector: Telecom
Country: Canada
Note: Dividend yields noted above are as of Sept 18, 2015. Data is known to be accurate from sources used.Please use your own due diligence before making any investment decisions.
Disclosure: Long AXAHY