*** UPDATE:  For the latest Dividend Withholding Tax Rates click :
Dividend Withholding Tax Rates By Country 2022
Dividend Withholding Tax Rates is an important to consider when investing in foreign stocks for US-based investors. These taxes vary by country and can be as high as 25% or more or as low as 0%.
The following table shows the dividend withholding tax rates for 2015:
Click to enlarge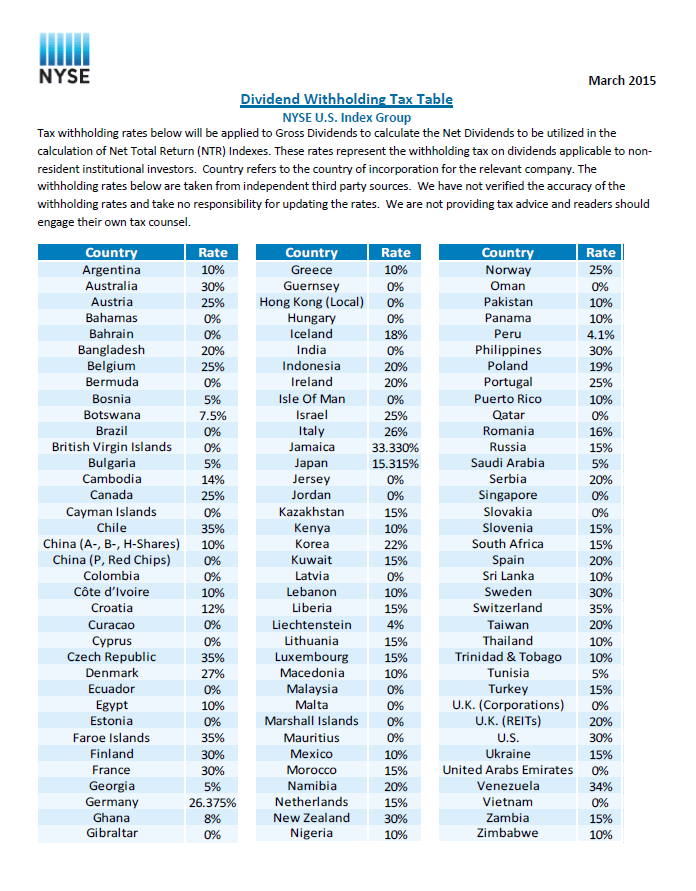 Source: NYSE
Here are two points to consider:
Though the rate for Canada is noted as 25% above, it is actually possible to get a reduced rate of 15% for taxable accounts by filling a form with the tax authority of Canada. Also Canada does NOT deduct withholding taxes from dividends of stocks held in retirement accounts such as IRAs, 401Ks, etc. Hence it is a smart move to hold Canadian dividends stocks in retirement accounts.
A few countries such as UK, Malaysia, Singapore, India, etc. do NOT charge any dividend taxes for all types of accounts. Investors hunting for income stocks can focus on these countries although Indian stocks are not known for high dividends.
To save for future reference: Download the above table in a pdf document.
*** UPDATE:  For the latest Dividend Withholding Tax Rates click :
Related: