Many years have passed since the global financial crisis(GFC) of 2008-09. Fresh with memory of the collapse of many financial institutions, investors are still avoiding bank stocks like rotten fish.However that need not be the case. Of the thousands of banks operating the U.S. the majority are conservative well-run institutions. Even the ones that were saddled with losses have cleaned up their balance sheets, recapitalized and are back to growing profitably.
According to an article by Lisa Haakman in the latest edition of PSG Assessment Management's Angles & Perspectives, First Quarter 2015, U.S. banks are trading at 70-years lows based on valuation relative to the S&P 500.
Click to enlarge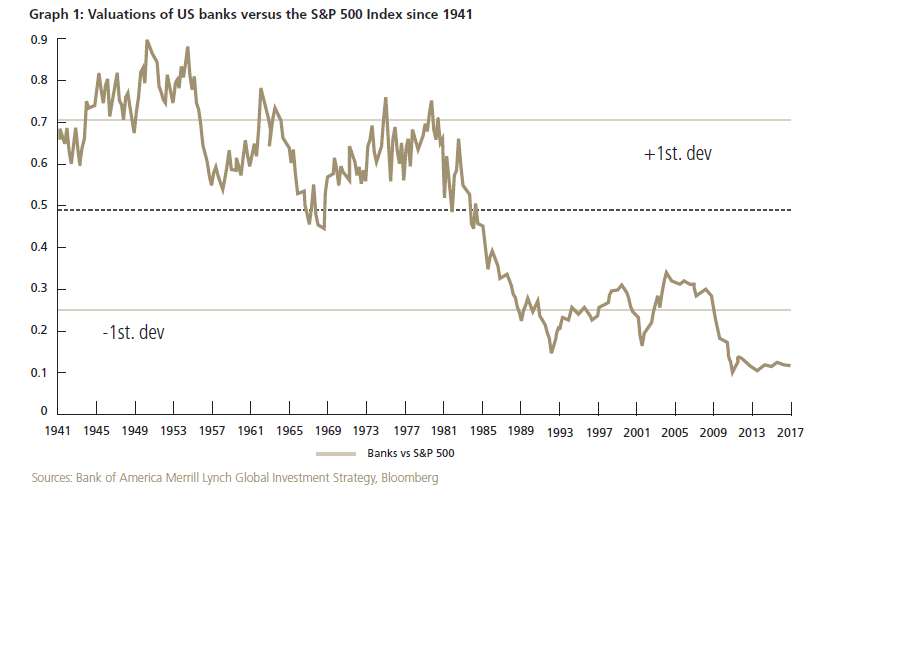 Over the past 10-years, US and UK banks have also under-performed the MSCI Index by 50% and 69% respectively as shown below: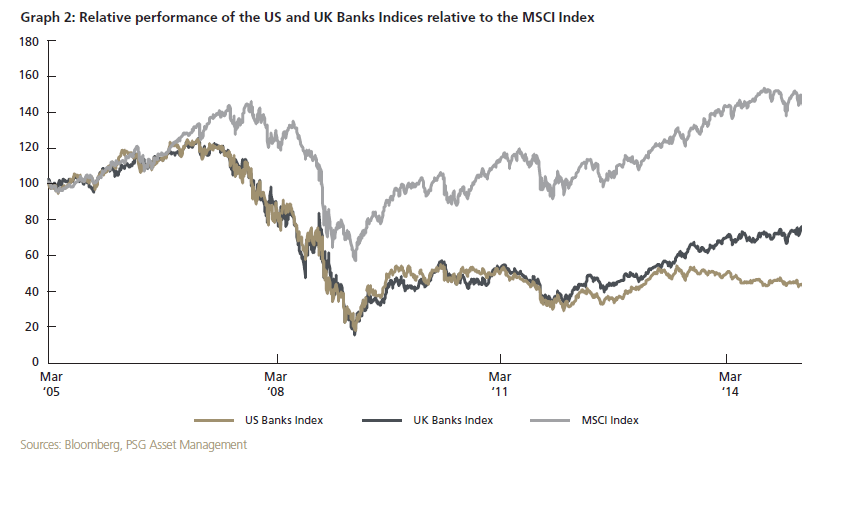 Some of the reasons to invest in bank stocks include:
Banks are the pillars of the U.S. economy. As the economy improves banks tend to be the main beneficiaries of higher economic activity.
The U.S. economic recovery is well underway with the latest unemployment rate at just 5.4%.
The real estate market is also recovering with some markets like San Diego, San Francisco and others already becoming sellers markets with bidding wars occurring often according to a report in the WSJ.
Auto-lending is also on the rise.
Credit-card lending is growing strongly with issuers competing with each other to grow their card portfolios by offering excellent rewards and other programs to cardholders.Millions of new card offers are also stuffed in American mailboxes on a monthly basis.
Rising interest rates will actually benefit banks as they will be able to lend excess deposits at higher rates leading to higher profits.
U.S. banks are generating higher earnings and delivering higher returns to shareholders especially in the form of dividends and share buybacks. The following table shows the current payout ratios of three large U.S. banks: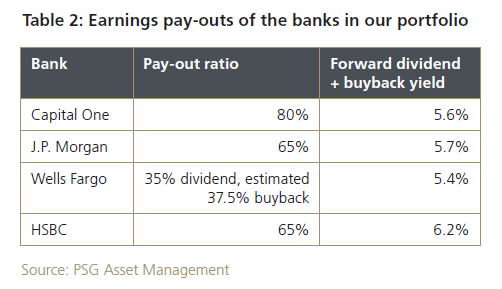 Source: Angles & Perspectives, First Quarter 2015,  PSG Assessment Management
Three large and seven community US banks listed below with their current dividend yields for further research:
1.Company: JPMorgan Chase & Co. (JPM)
Current Dividend Yield: 2.41%
2.Company: Wells Fargo & Company (WFC)
Current Dividend Yield: 2.68%
3.Company: Capital One Financial Corporation (COF)
Current Dividend Yield: 1.88%
4.Company: Bank of the Ozarks, Inc. (OZRK)
Current Dividend Yield: 1.24%
5.Company: Glacier Bancorp, Inc. (GBCI)
Current Dividend Yield: 2.57%
6.Company: U.S. Bancorp (USB)
Current Dividend Yield: 2.25%
7.Company: Cullen/Frost Bankers, Inc. (CFR)
Current Dividend Yield: 2.73%
8.Company: Bank of Hawaii Corporation (BOH)
Current Dividend Yield: 2.84%
9.Company: Commerce Bancshares, Inc. (CBSH)
Current Dividend Yield: 2.03%
10.Company: Mercantile Bank Corp. (MBWM)
Current Dividend Yield: 2.80%
Note: Dividend yields noted above are as of May 22, 2015. Data is known to be accurate from sources used.Please use your own due diligence before making any investment decisions.
Related:
Disclosure: Long GBCI, USB