The performance of most emerging market equities in the past few years has been average to poor. Developed markets have especially performed well in the recent past handily beating their emerging market peers. The BRICs used to the hot destination for many years. However collectively they have disappointed investors with the exception of India.
Compared to the double digit returns of most European markets and the decent performance of the U.S. markets so this year, emerging markets are still lagging. The following chart shows the 5-year returns of the MSCI Emerging Markets Index and the EAFE Index:
Click to enlarge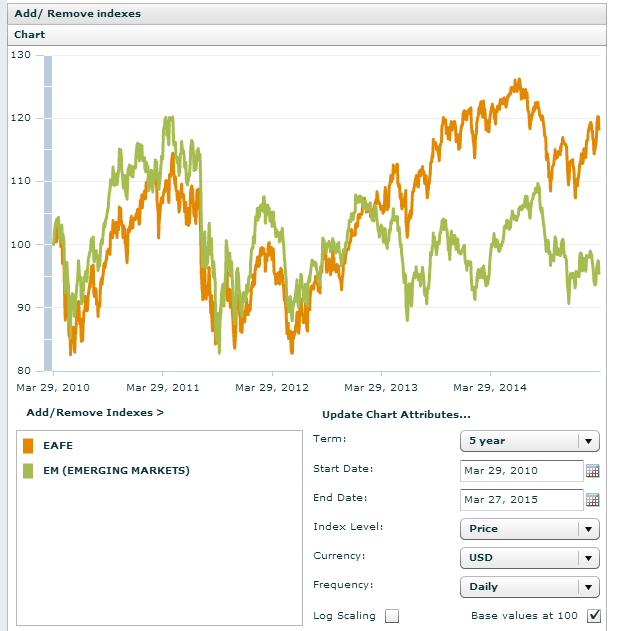 Source: MSCI
The chart shows that emerging markets have been under-performing developed markets since 2013. The gap between the performance of developed stocks and emerging stocks continue to widen.
The iShares MSCI Emerging Markets ETF (EEM) was down about 3% in both 2013 and 2014.
Despite the poor performance of emerging stocks, it is not a good idea to completely write them off. There are still opportunities to be found in those markets although one has to very selective. Certain sectors such as real estate, technology, consumer discretionary can be avoided. And investors can consider stocks in the consumer staples, utilities, banking and retail sectors. This is as consumers in developing countries move from lower-income to middle-income levels they spend their disposable income buying products and services from companies operating in these sectors.
Five emerging market companies that investors can consider are listed below:
1.Company:Vina Concha y Toro SA (VCO)
Sector:Beverages
Country: Chile
2.Company: ICICI Bank Ltd(IBN)
Sector: Banking
Country: India
3.Company: Fomento Economico Mexicano SAB de CV (FMX)
Sector: Beverages (Nonalcoholic)
Country: Mexico
4.Company: Turkcell Iletisim Hizmetleri AS (TKC)
Sector: Mobile Telecom
Country: Turkey
5.Company: Companhia Brasileira de Distribuicao (CBD)
Sector: Food & Staples Retailing
Country: Brazil
Disclosure: No Positions