European equity indices have outperformed their American peers so far this year unlike last year when the S&P 500 was the winner. Compared to the S&P 500's year-to-date return of -0.9% as of Mar 11th, the returns of major European indices are listed below:
UK's FTSE 100: 2.4 %
France's CAC 40: 17.0 %
Germany's DAX Index: 20.4 %
Spain's IBEX35 Index: 7.2%
Since European stocks have already run up substantially relative to U.S. stocks, some investors especially income investors may be wondering if they want to get into European stock at current levels. The answer to that question is a big yes. Despite the current rise, many markets in Europe offer attractive investment opportunities. For dividend investors Europe is still a fertile hunting ground. In this post let me list three solid reasons to invest in European dividend stocks now:
1. The gap between dividend yields of stocks and the yields on government and corporate bonds is very wide. Historically this gap has not been this wide according to a research report by Allianz Global Investors.
Click to enlarge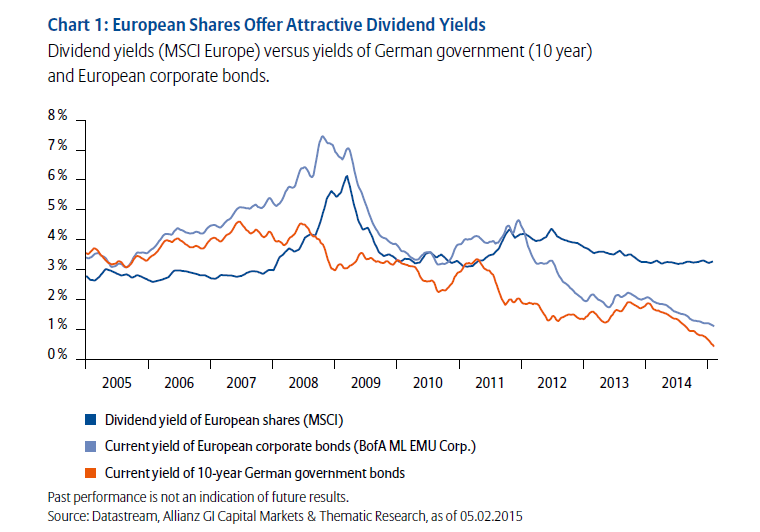 2. European firms pay high dividends compared to other regions of the world as shown in the chart below: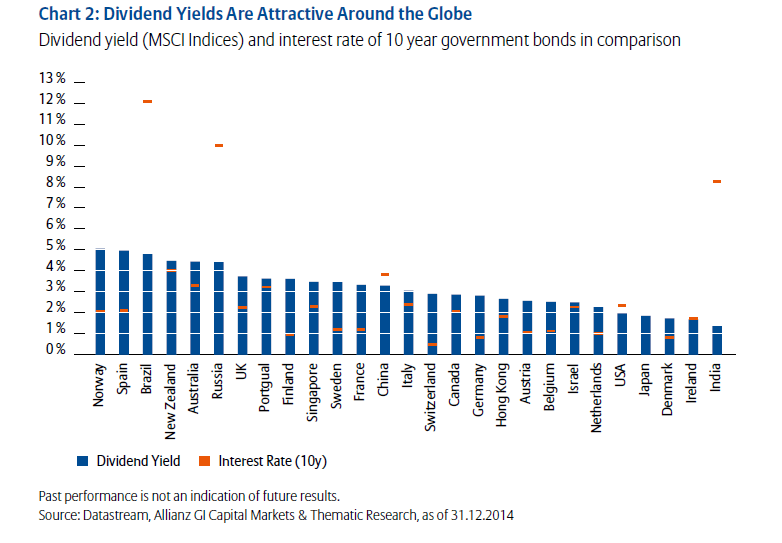 The average dividend yield stood at 3.3% at the end of 2014 based on MSCI Europe.The US dividend yield is in the 2% range. Outside of Europe, Australia and New Zealand companies also have high dividend payouts.
Source: Dividends instead of low interest rates, March 2015, Allianz Global Investors
3.European stocks have still room to run according to Nicolas Simar, head of the Equity Value Boutique at ING IM. From an article by Mr.Simar in Investment Europe:
Prices of European equities have yet to fully reflect the ECB's QE and corporate margins should improve this year due to accelerating global economic growth, which should generate higher dividends. European earnings are still 30% below their previous peak in 2007 while US earnings are 20% above theirs: this gap will close as the ECB remains accommodative and the declining Euro boosts exports and adds to top-line growth.

Another gap set to close is that between the real yields of European equities (3.3%) and German Bunds (0.39%), which is around 90% of the peak seen in September 2008. ING IM believes there are still opportunities to exploit this gap before it narrows.

Selected Cyclical stocks are particularly attractive after their poor performance in 2014 depressed market expectations to the point that some of them are now priced for a recession.
Source: ING IM: European dividend stocks offer buying opportunity in 2015, Mar 12, 2015, Investment Europe
Ten dividend stocks from ten countries on the continent are listed below for further research:
1.Company: Nordea Bank AB (NRBAY)
Current Dividend Yield:  4.55%
Sector: Banking
Country: Sweden
2.Company: Edp Energias De Portugal SA (EDPFY)
Current Dividend Yield: 7.06%
Sector:Electric Utilities
Country: Portugal
3.Company:Diageo PLC (DEO)
Current Dividend Yield: 3.03%
Sector: Beverages
Country: UK
4.Company: Nestle SA (NSRGY)
Current Dividend Yield: 3.20%
Sector: Food Products
Country: Switzerland
5.Company: BASF SE (BASFY)
Current Dividend Yield: 4.00%
Sector: Chemicals
Country: Germany
6.Company: Total SA (TOT)
Current Dividend Yield: 6.52%
Sector: Oil, Gas & Consumable Fuels
Country: France
7.Company: Royal Dutch Shell PLC (RDS.A)
Current Dividend Yield: 6.40%
Sector: Oil, Gas & Consumable Fuels
Country: The Netherlands
8.Company: Telefonica SA (TEF)
Current Dividend Yield: 6.27%
Sector: Telecom
Country: Spain
9.Company:Telenor ASA (TELNY)
Current Dividend Yield: 6.21%
Sector: Telecom
Country: Norway
10.Company:Enel SpA (ENLAY)
Current Dividend Yield: 4.06%
Sector: Electric Utility
Country: Italy
Note: Dividend yields noted above are as of Mar 12, 2015. Data is known to be accurate from sources used.Please use your own due diligence before making any investment decisions.
Disclosure: No Positions