Germany's benchmark index DAX reached an all-time record high of 11,158.55 yesterday on intraday basis before closing the day at a record 11,130. The index reached another high on Friday.
In addition to DAX, UK's FTSE 100 also came close to reaching 6,950 which it first crossed in late 1999. The FTSE has now hit a 15-year high this week. Though it seems like the index is only now recovering all the losses since 1999, in reality the index is up 66% as of Feb 20th if dividends are included in the calculation according to an article in Citywire, UK.
As the economic powerhouse of Europe, it is not surprising to see German stocks are leading the way in Europe.
The following chart shows the yearly performance of DAX for the selected period: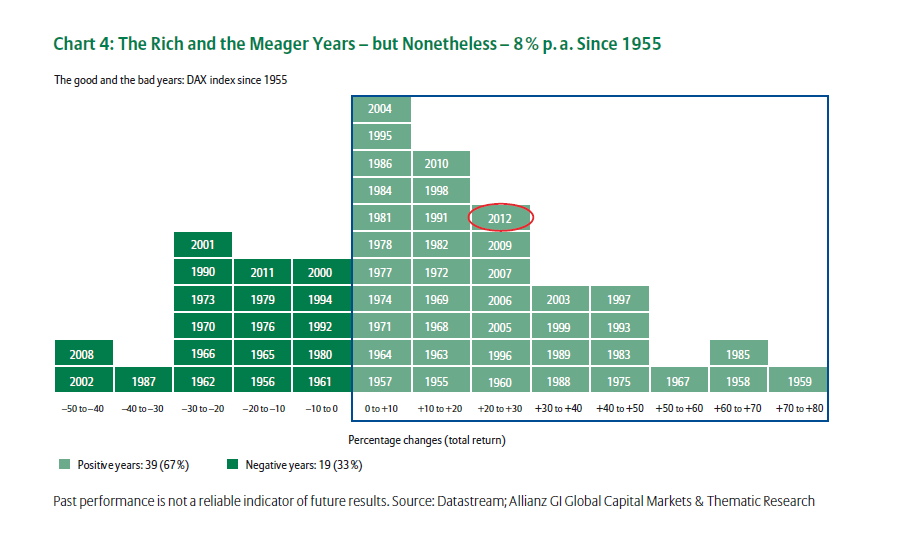 How to invest in German stocks?
A simple and easy to invest in German stocks is via the iShares MSCI Germany ETF (EWG) . Another option to is to consider the closed-end fund New Germany Fund Inc. (GF). For investors interested in individual companies, many German ADRs trade on the US markets. A list of German ADRs can be found here.
Disclosure: No Positions
Related:
Here's what the FTSE 100's near-record high can teach you about investing, MoneyWeek