The Greek people elected PM Alexis Tsipras of the left-wing SYRIZA party in the recent election. Since his election, he has canceled some of the austerity programs and has reinstated certain laid public workers such as street cleaning ladies.Greece is without a doubt on a collision course with its creditors.According to one report, Greece owes  some €315bn or the equivalent of 175% of its GDP to creditors. From a news article in the BBC today:
German Chancellor Angela Merkel has ruled out cancelling any of Greece's debt, saying banks and creditors have already made substantial cuts.

But Mrs Merkel told the Die Welt newspaper she still wanted Greece to stay in the eurozone.

Greece's left-wing Syriza party won last weekend's election with a pledge to have half the debt written off.

Its finance minister said the "troika" of global institutions overseeing Greek debt was a "rotten committee".

The troika – the European Commission, European Central Bank and International Monetary Fund – had agreed a €240bn (£179bn; $270bn) bailout with the previous Greek government.

But new Finance Minister Yanis Varoufakis has refused to work with the troika to renegotiate the bailout terms and has already begun to roll back the austerity measures the creditors had demanded of the previous government.

Meanwhile, EU economic and financial affairs commissioner Pierre Moscovici told the BBC's Hardtalk that Greece had to honour its previous commitments, although he said he wanted Greece to remain in the eurozone.
Source: Greece economy: Merkel rules out more debt relief, Jan 31, 2015, The BBC
Investors in Greek stocks are voting with their foot since the new government took power. The benchmark Athens Stock Exchange General Index is down over 12% year-t0-date. Banks have fallen even more so far this year as they would be the most hurt if negotiations with troika fail, their liquidity dries up, the economic situation gets worse, etc. The FTSE/ATHEX Banks Index is off over 38% this year. Earlier it was off more than 50% as the chart shows below:
Click to enlarge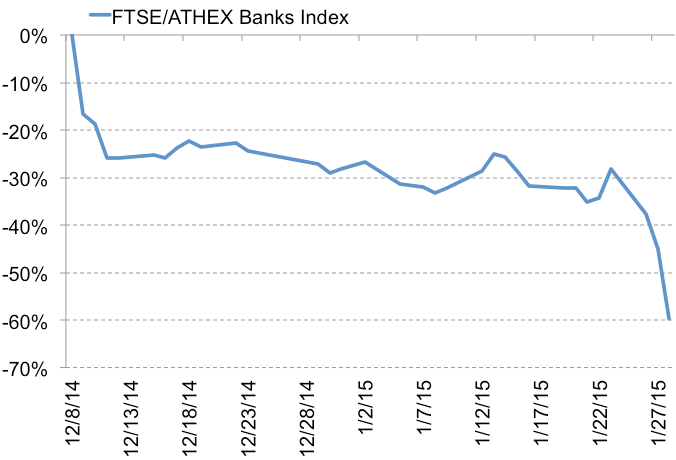 Source: Schwab Market Perspective: Diverging Policies…Converging Economies?, Charles Schwab
In the past five years the index is down by more than 90%.
FTSE and the Athex group have announced to rebase the FTSE/ATHEX Banks Index by multiplying index values by 10 after the close of business on February 3, 2015 to improve efficiency and seamless operation.
The year-to-date returns of three Greek banks trading as ADRs on the US markets are listed below:
1.Company: Alpha Bank (ALBKY)
Year-to-date return: -28.57%
2.Company: EFG Eurobank Ergasias S.A.(EGFEY)
Year-to-date return: -50.00%
3.Company: National Bank of Greece
Year-to-date return: -38.55%
Disclosure: No Positions
For the complete list of Greek ADRs go here.