Diversification is one of the simple and effective way to reduce risk and increase potential returns. Putting all eggs in one basket is a recipe for disaster.It is important to diversify not only among asset classes, but also between sectors when investing in stocks, between countries, regions, etc.
The first decade of the 21st century was dubbed the lost decade for stocks. I wrote an article about this topic in Dec, 2009. From that article:
Click to enlarge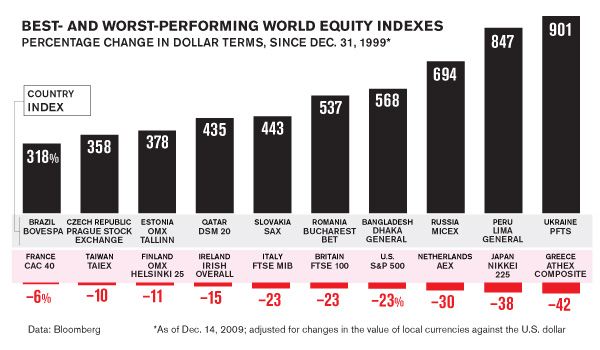 The chart shows the return of U.S. S&P 500 Index from Dec 31, 2009 thru Dec 14, 2009. The S&P 500 lost 23% in this period. During the same period market indices in developed countries like France, Finland, etc.showed relatively better performance. The main stock market indices in the Netherlands, Japan and Greece performed worse than the S&P 500.

It is interesting to note that while the S&P lost 23%, the Brazilian Bovespa Index gained an astonishing 318% during the same time.This is one reason why US investors should look beyond the US for better returns.
Michael Batnick, Director of Research of Ritholtz Wealth Management also discussed about the lost decade for stocks in an article. His take on this subject also shows the importance of diversification.From the article by Mr.Batnick:
Click to enlarge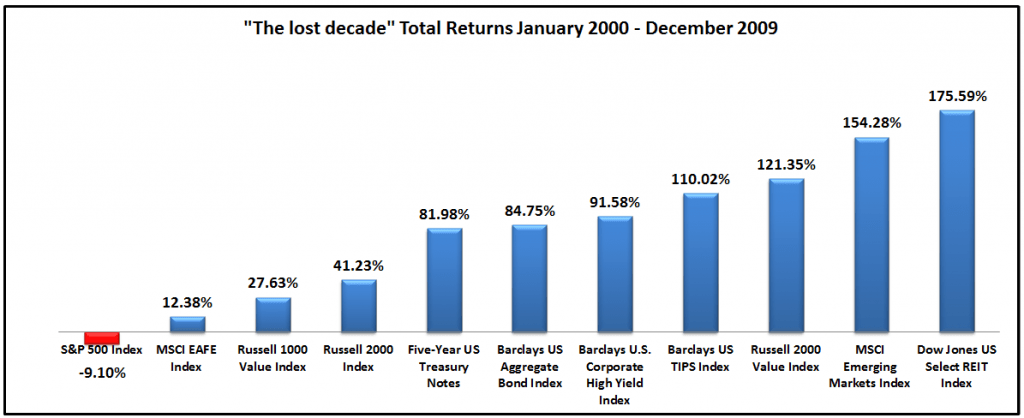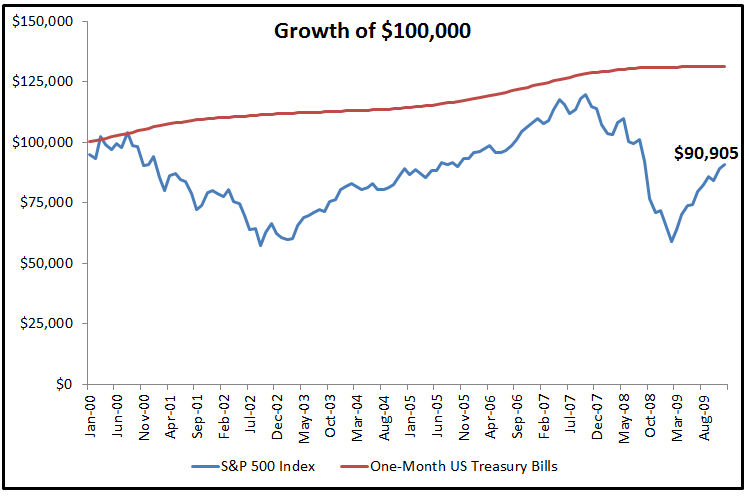 The period from 2000 through 2009 is referred to as a "lost decade" for U.S. stocks. Over this period, investors were not rewarded with an equity risk premium, they were better off in risk-free treasury bills. Not only were they not rewarded, they were punished by two peak-to-trough crashes of greater than fifty percent.

While all that is true for the S&P 500, there were other areas of the market that delivered excellent returns over the same period of time. Emerging Markets were up 154%, U.S. bonds were up over 80% and U.S. Reits were up 175%!
Source: What Lost Decade?, The Irrelevant Investor ; Hat Tip: The Big Picture
As the title of this post says the key point to remember is to diversify.Failure to diversify can lead to no gain or even a loss after a decade of investing.
Related ETFs:
Disclosure: No Positions