Greece is on the southern end of Europe and has an archipelago of 2,000 islands. The economy is a medium size economy in Europe with an estimated GDP of $267.0 billion based on Purchasing Power Parity. Greece has democracy as the political system and a free market capitalist economy. One of the major negative factors for Greece is the size of the public sector in the economy.The public sector accounts for about 40% of the GDP.
The Top 10 Export Partners for Greece are shown below:
Click to enlarge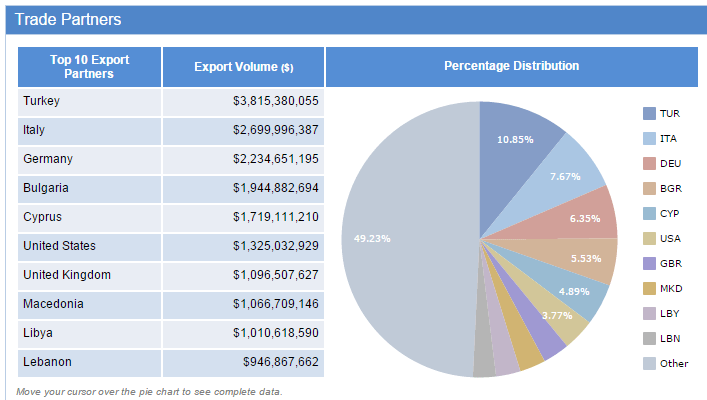 The top three export destinations for Greek products are Turkey, Italy and Germany. The major export products are oil and mineral fuels, aluminium and electrical machinery.
The Top 10 Import Partners for Greece are shown below: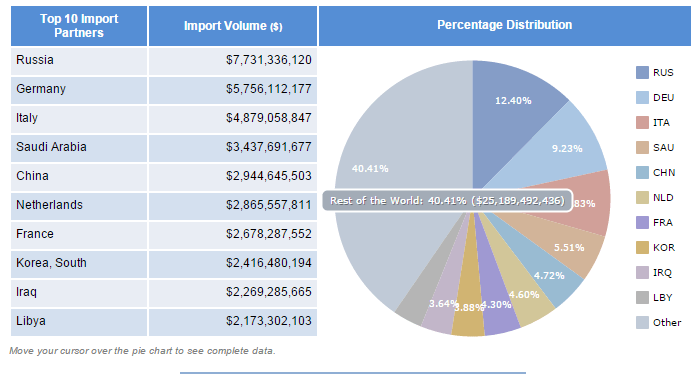 The top three source countries for imported goods are Russia, Germany and Italy.
Note: Data shown are 2012 data from the UN.
Source: Global Edge, Michigan State University