One of the important metrics to evaluate pharmaceutical companies is the total number of drugs that are in the pipeline. Companies not only depend on new drugs for future revenue growth but also look to new drugs in development to replace revenues lost when patents expire on their existing drugs.
The Top 10 pharmaceutical companies based on the size of pipeline is shown in the table below:
Click to enlarge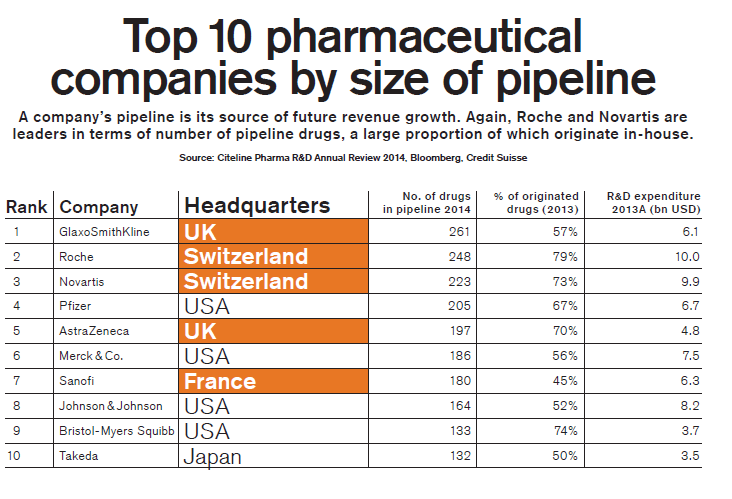 Source: Global Investor 1.14 – Europe, August 2014, Credit Sussie
This list is dominated by firms in the US and Europe with the exception of Takeda from Japan. Roche and Novartis(NVS), two of the world's top pharma firms are based in Switzerland. According to the Credit Suisse report, Roche Holding AG(RHHBY) is the world's leader in oncology and vitro diagnostics. When Roche acquired Genentech, it secured access to some of the world's top scientists and pipeline assets.
Novartis is the world in three categories: oncology, generics and ophthalmology business. In oncology it is behind Roche and in generics it is behind Teva (TEVA) of Israel.Roche and Novartis were among the top 10 global corporate spenders in R&D. They each spent about $10.0 billion in 2013 on R&D.
From an investment standpoint, all the firms listed above are excellent choices for long-term investment. One could not wrong holding shares of J&J(JNJ) or GlaxoSmithKline(GSK) or Novartis(NVS) in the long run.
Disclosure: No Positions