"A gold mine is a hole in the ground with a liar standing next to it." – Mark Twain
Investing in mining companies is highly risky. It is not wise to simply invest in them based on reading some financial reports. For startup mining firms everything is based on speculation. Many years ago a Canadian gold miner called Bre-X collapsed spectacularly after all their claims of gold discovery in Indonesia turned to be a fraud. They pretty much embodied the Mark Twain's quote above. Canada's stocks exchanges particularly the Toronto Venture Exchange has hundreds of mining companies many of which are just small miners doing discovery somewhere in the world.
The Life Cycle of a Mine:
Click to enlarge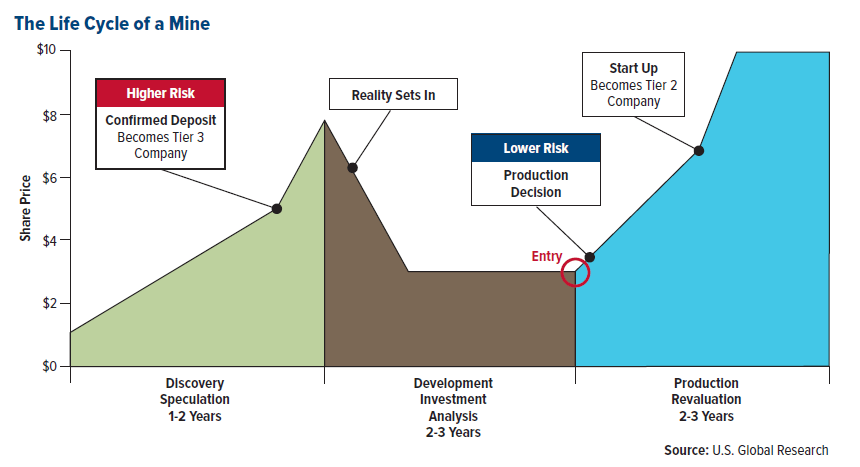 From a report by U.S. Funds:
When a mine is first discovered, excitement raises the price of the stock. This is when investment is most speculative since only one in 2,000 companies finds at least a 1 million-ounce deposit. Once reality sets in and miners are faced with the notion that the metal or mineral—assuming there is any—probably won't be exhumed for some time, prices tumble. Years later, after production finally begins, stocks see another uptick. This is when the equity is at its lowest risk factor.
Source: MANAGING EXPECTATIONS: Anticipate Before You Participate in the Market, 3Q 2014, U.S. Funds
So before investing in a mining stock one should first analyze and identify in which phase the mine is currently in.As Bre-X showed, rushing to cash in on hyped up discovery of gold or other precious metals will only cause investors to lose money.