Dividends are an important factor that must be considered when selecting equities. This is because dividends provide a cushion to a well-diversified portfolio during adverse market conditions and also provide an income stream. More importantly they help boost the total returns of an investment especially over the long-term. According to a research study by Allianz Global Investors dividends accounted for 40% of the total return on equity investment in the past 40 years. Many other studies have also shown that dividends form a substantial portion of the total returns.
When evaluating total returns it is wise to review the contribution of dividends and share price gains.The following chart shows the Contribution of Dividends and Share Price Gains to Total Returns from 1970 and 2014(annualized) across select global regions:
Click to enlarge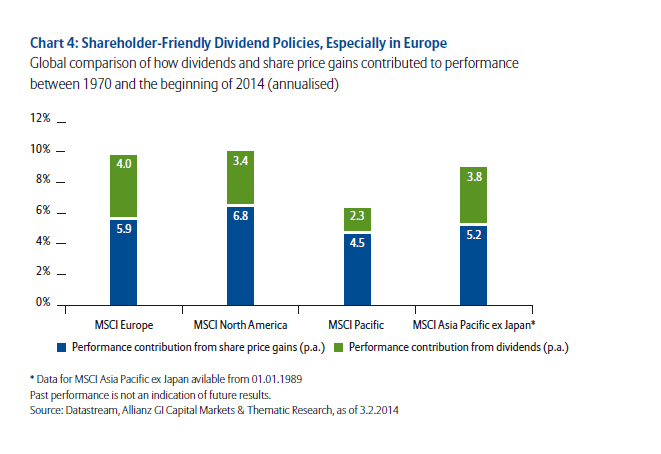 Source: Dividend strategies in times of financial repression, Allianz Global Investors
Dividends accounted for 42% of the equity returns for the MSCI Europe during the period shown. Although dividend yields were low in absolute terms, they also contributed more one-third of the total performance for other regions as well including North America (MSCI North America) or Pacific (MSCI Pacific).
Related ETFs:
Disclosure: No Positions