The S&P 500 is up by 3.1% year-to-date as of Oct 10th on price basis. Many other developed markets have fared even worse so far this year. The year-to-date return of some of the major markets are listed below:
UK's FTSE100: – 6.1%
France's CAC 40: -5.2%
Germany's DAX Index: -8.0%
Australia's S&P/ASX 200: -3.1%
Japan's Nikkei: -6.1 %
Singapore's Straits Times Index: 1.8%
The decline in these and other foreign markets present plenty of opportunities for investors hunting for dividend stocks.
I wrote about the decline in the dividend payout ratios of US stocks in an article last month. I have the attached the US historical dividend payout ratio chart from that article below for putting the payout ratio and the dividend yield in perspective.
Click to enlarge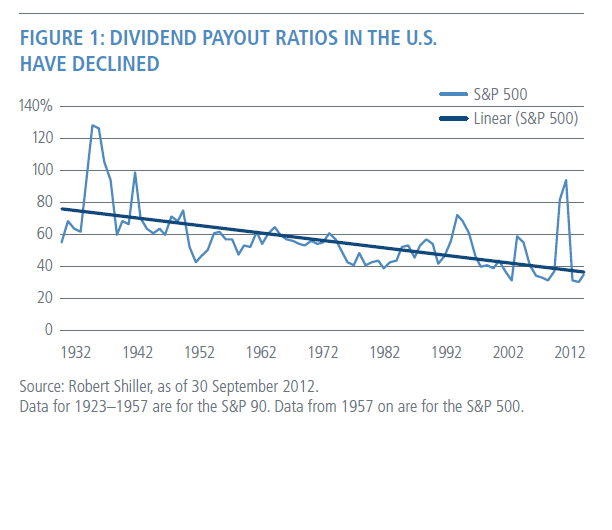 Source: Going Global Can Pay Dividends, PIMCO, December 2013
I came across an interesting piece in the Journal on US dividends. From the article by Morgan House:
Dividends paid by companies in the S&P 500 currently amount to less than 2% of their share prices, compared with the long-term average of 4.4%, according to data from Yale University economist Robert Shiller.

Dividends also are falling steadily as a share of earnings, with about a third of profits getting returned to shareholders in recent years, compared with nearly half in the 1980s and 1990s.

If S&P 500 companies paid out the same percentage of profits as dividends during the decade ended Dec. 31, 2013, as they did from 1950 to 2000, shareholders would have received nearly $1 trillion more in dividends than they actually did.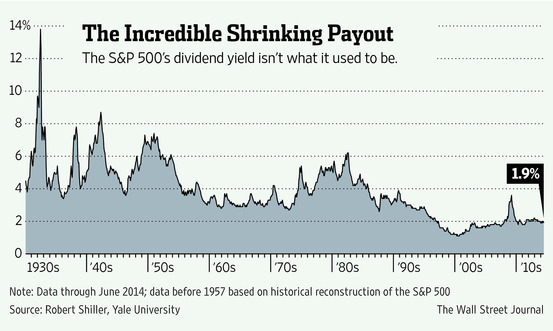 Source: Not Your Father's Dividend Stocks, The Wall Street Journal, Oct 3, 2014
Mr.Housel also included the following on foreign stocks:
For investors looking for more income, a high dividend yield still can be found. You just might have to look abroad.

As the U.S. market has gotten more expensive, many of the best opportunities for yield are in international stocks, which tend to trade at lower valuations and have higher payout ratios, says Patrick O'Shaughnessy, portfolio manager at O'Shaughnessy Asset Management in Stamford, Conn., which manages $7.5 billion. "Yield is safer when valuations are lower than the market, providing a margin of safety," he says.
Ten foreign stocks with high dividend yields are listed below for consideration with the first three suggested by Mr.Patrick:
1.Company: Total SA (TOT)
Current Dividend Yield: 4.80%
Sector:Oil, Gas & Consumable Fuels
Country: France
2.Company: Telstra Corp Ltd (TLSYY)
Current Dividend Yield: 5.77%
Sector:Telecom
Country:  Australia
3.Company: BCE Inc (BCE)
Current Dividend Yield: 5.19%
Sector: Telecom
Country:  Canada
4.Company: Swedbank AB (SWDBY)
Current Dividend Yield: 6.53%
Sector: Banking
Country: Sweden
5.Company:Telenor ASA (TELNY)
Current Dividend Yield: 5.72%
Sector: Telecom
Country: Norway
6.Company: DBS Group Holdings Ltd(DBSDY)
Sector: Banking
Current Dividend Yield: 4.78%
Country: Singapore
7.Company: Vodafone Group PLC (VOD)
Current Dividend Yield: 4.06%
Sector: Wireless Telecom
Country: UK
8.Company: Bank of Nova Scotia (BNS)
Current Dividend Yield: 3.77%
Sector: Banking
Country:  Canada
Stocks of Canadian companies held in retirement accounts by US investors are exempt from Canadian dividend withholding tax.
9.Company:Edp Energias De Portugal SA (EDPFY)
Current Dividend Yield: 6.13%
Sector: Electric Utilities
Country: Portugal
10.Company: Legal & General Group plc (LGGNY)
Current Dividend Yield: 4.47%
Sector: Insurance
Country: UK
Note: Dividend yields noted are as of Oct 10, 2014. Data is known to be accurate from sources used.Please use your own due diligence before making any investment decisions.
Disclosure: Long BNS, SWDBY