Grupo Aeroportuario del Centro Norte, S.A.B. de C.V. (OMAB) and Grupo Aeroportuario del Sureste, SAB de CV (ASR) operate airports in Mexico. Their stocks have soared in the past five years and are continuing to fly higher. Both the stocks are up by about 200% or more in that period compared to the S&P 500's less than 100% return as shown in the red line below:
Click to enlarge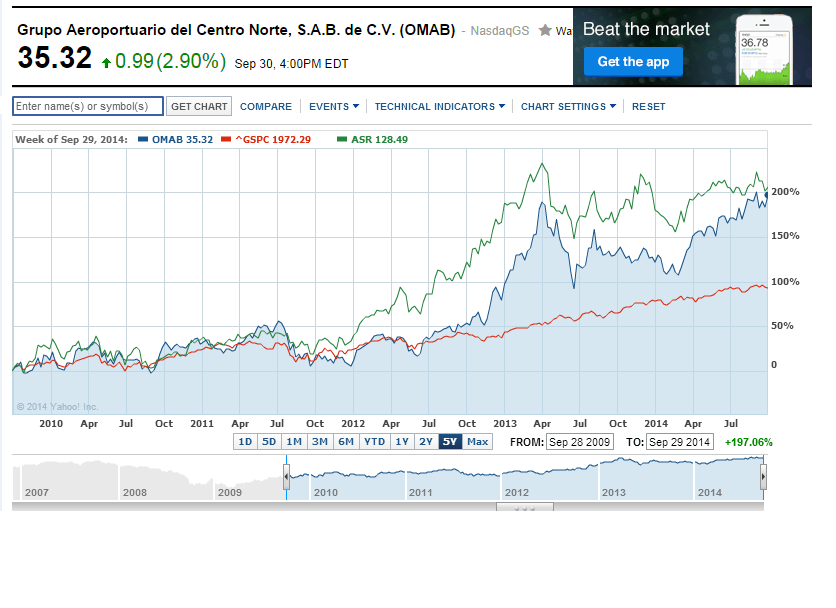 Source: Yahoo Finance
Grupo Aeroportuario del Centro Norte runs 13 international airports in Monterrey, Acapulco, Mazatlán, Zihuatanejo, Ciudad Juárez, Reynosa, Chihuahua, Culiacán, Durango, San Luis Potosí, Tampico, Torreón, and Zacatecas. Grupo Aeroportuario del Sureste on the other hand operates 9 airports in  the cities of Cancún, Cozumel, Huatulco, Mérida, Minatitlán, Oaxaca, Tapachula, Veracruz, and Villahermosa.
Mexico's beaches are a major tourist attraction not only to North Americans but also to Europeans and others. For North Americans Mexico offers cheap tourist destinations compared to other places. Hence OMAB and ASUR are benefiting tremendously from the growth of the tourism industry. As noted above they operate the airports in popular destinations like Cancún, Cozumel, Mazatlán, etc.
Disclosure: No Positions