The current dividend yield of the S&P 500 is 1.91%. It has stayed around the 2% mark for many years. Despite corporate profits soaring and reaching record-high levels most U.S. companies have not shared the higher earnings with their shareholders in  the form of higher dividend payouts.
The chart below shows the long-term declining trend of dividend payout ratio in the U.S.:
Click to enlarge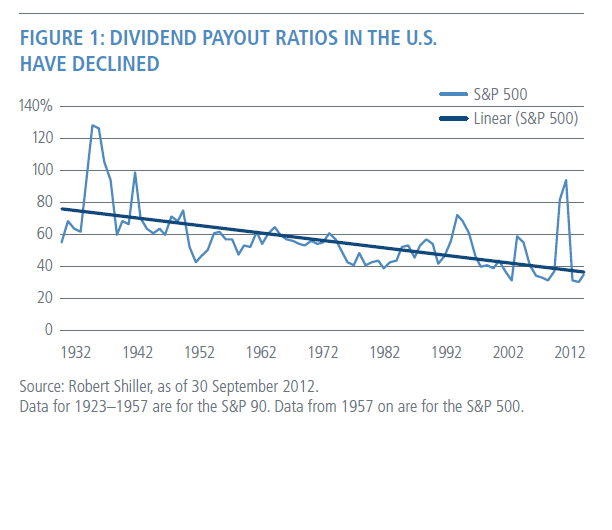 Source: Going Global Can Pay Dividends, PIMCO, December 2013
The takeaway here is that investors should not assume that higher profits will automatically lead to higher dividend payouts. This is especially true with U.S. firms. Hence investors should plan investment strategies accordingly. Some of the reasons for the low dividend payout ratios include: cultural change in the past few decades when stock prices soared and investors ignored dividends, many corporate management having crazy dreams of growing big by acquisitions, ability to "play" with companies' retained earnings to manipulate stock prices via share buybacks, powerless mom&pop retail investors, docile big investors such as mutual funds and others, tax policies, etc. All these have contributed to this sad state of affairs of the U.S. corporate world. This situation is unlikely to change in the foreseeable future.
Related ETFs:
Dislosure: No Postions