Oil majors Ecopetrol (EC) of Colombia and Petrobras(PBR) of Brazil are both controlled by the state. In the past 5 years the ADR performance of these companies have diverged significantly as shown in the chart below:
Click to enlarge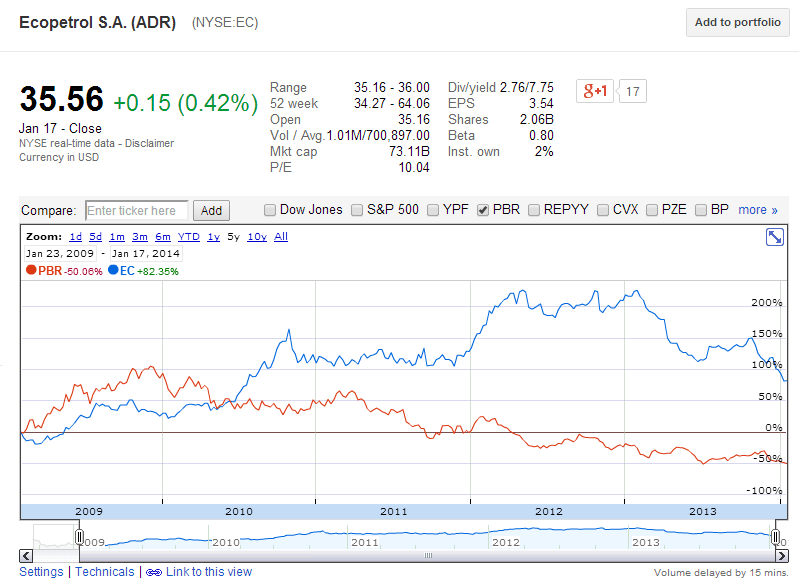 Source: Google Finance
Petrobras had a great run in the past. However the stock has performed poorly especially during the presidency of during the Dilma Vana Rousseff since 2011. The populist president has a been a disaster for investors due to her policies of heavy state intervention in the economy.
Ecopetrol is up 82% in the past five years in price returns while Petrobras is down over 50%. EC currently has a 7.75% dividend yield and a market cap of $73.0 billion while PBR's dividend yield is 1.52% and market cap is $81.0 billion.
Ecopetrol(EC) ADR fell by 42% in 2013 and Petrobras(PBR) was down 31%. Petrobras has been on a downtrend for many years now.From a peak of $72.0 reached in June 2008 following a 2 for 1 split in May of that year, the stock currently trades at under $13.0. Investors who bought in 2008 are sitting on a big paper loss. From its IPO in 2008, Ecopetrol shares peaked at around $68.0 in May 2012. On Friday it closed at $35.56. The company has paid a dividend every year since its listing on the NYSE.
According to an article in FT beyondbrics blog, Ecopetrol has a extraordinary shareholder meeting set for January 23. There are rumors that Javier Gutiérrez, the chief executive of the company may be on the way out. Despite new discoveries Ecopetrol seems to be suffering from tight reserves according to bank Bancolombia quoted in the article.
Disclosure: Long PBR