UK-based Capita Asset Services publishes their Dividend Monitor report forecasting the dividend payments of British firms. According to this year's report, British firms are projected to payout more than £100.0 billion in dividends over the nesxt 12 months.
The top dividend-paying British stocks are shown in the table below:
Click to enlarge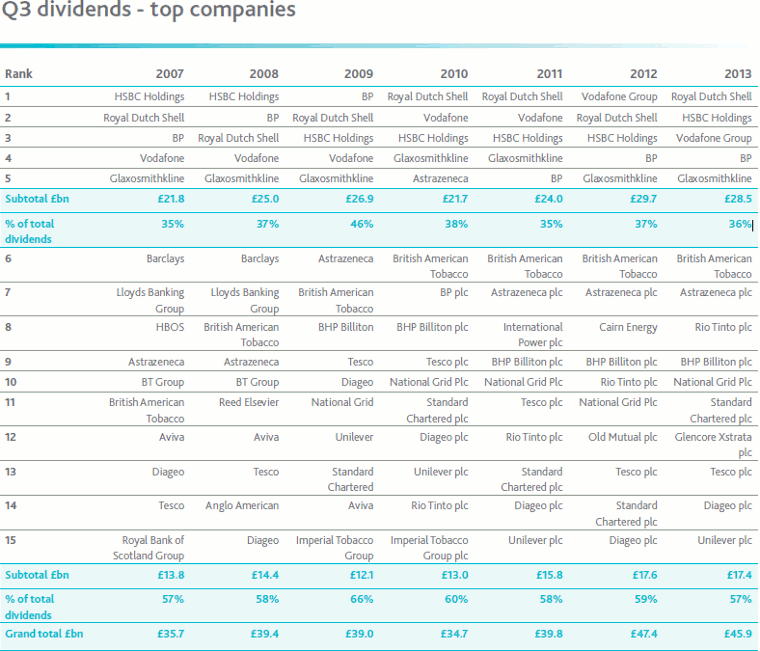 Source: Thanks for the dividends (& the stocks shelling out), CityWire UK
Some of the interesting points to note include:
UK firms will pay out 

£30.0 billion more in dividends this year than 2013.

More than half of the 

£30.0 billion will be paid out by Vodafone which is planning to pay 

£16.6 billion in special dividends to shareholders as a result of selling its stake in Verizon Wireless(U.S.).

The FTSE 100 is estimated to have a dividend yield of 4.40% over the next 12 months. Over the past 10 years capital appreciation for the index amounted to 50.80%. But when reinvested dividends are included this figure more than doubles to a return of 116.60% according to research by 

Hargreaves Lansdown.
Source: 2014 will be a bumper year for UK equity income investors, FE Trustnet
Disclosure; No Positions