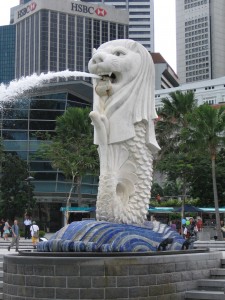 The city state of Singapore is one of the developed markets in Asia. Unlike its neighboring country of Malaysia, Singapore had a strong political system since its independence that helped transform its economy into a highly industrialized economy on par with the developed world. As a major trading hub of global trade with a top banking sector global investors cannot afford to ignore Singapore.
From an investment standpoint, Singapore has many advantages over the U.S. and other developed markets. For example, while the dividend yield on the S&P 500 is 2.3% Singapore has a country yield of 2.9% as of Jan 2, 2014 according to FT market data. In order to identify potential investment options in Singapore I referred to the Singapore Dividend Equity Fund run by Nikko Asset Management Asia Limited.
According to Nikko, Singapore has a resilient economy and the four Cs which are discussed below:
Strong Confidence – The stability and security offered by the political system offers businesses a higher degree predictability.This in turn gives investors confidence in the Singapore market.

Strong Dividend Paying Culture – Singapore has a strong dividend culture and equities have one of the highest dividend yields in the Asia Pacific region.

Strong Corporate Governance – The high disclosure standards and transparency emphasized in the country leads to good corporate governance.

Strong and Stable Currency – Singapore enjoys a "AAA" credit rating and the Singapore Dollar remains strong due to the resilient economy.
The top 10 holdings of the fund as of 3Q, 2013 are listed below with the ADR ticker if available and the current dividend yield:
1.Company: DBS Group Holdings Ltd (DBSDY)
Current Dividend Yield: 5.01%
Sector: Banking
2.Company: Singapore Telecom (SGAPY)
Current Dividend Yield: 4.69%
Sector: Telecom
3.Company: Overseas-Chinese Banking Corp
Current Dividend Yield: N/A
Sector: Banking
4.Company: United Overseas Bank Ltd (UOVEY)
Current Dividend Yield: 3.35%
Sector: Banking
5.Company: Keppel Corp (KPELY)
Current Dividend Yield: 3.43%
Sector: Industrial Conglomerate
6.Company:Hong Kong Land Holdings Ltd
Current Dividend Yield: N/A
Sector: Real Estate
7.Company: Jardine Matheson Holdings Ltd (JMHLY)
Current Dividend Yield: 2.57%
Sector: Industrial Conglomerate
8.Company: Sembcorp Marine (SMBMY)
Current Dividend Yield: 2.99%
Sector: Marine Engineering and Services
9.Company: Thai Beverage PCL (TBVPY)
Current Dividend Yield: N/A
Sector: Beverages
10.Company: CapitaLand Ltd (CLLDY)
Current Dividend Yield: 2.37%
Sector: Real Estate
Since most of the Singapore companies do not trade on the organized exchanges, another simple and easy way to invest in Singapore equities is via the iShares MSCI Singapore ETF (EWS). The fund has over $1.1 billion in assets and a 12-month yield of 4.30%. The ETF is highly concentrated with financials accounting for over 52% of the portfolio. Most of the ten firms listed above are in the funds' holdings. Hence this ETF offers direct exposure to those ten stocks.
Note: Dividend yields noted above are as of Jan 3, 2014. Data is known to be accurate from sources used.Please use your own due diligence before making any investment decisions.
Disclosure: No Positions