Safran SA(SAFRY), the French aerospace, defense and security firm has announced a stock split in the rate of 300%. The ADR Record Date is Nov 6, 2013 and the Payable Date is Nov 7, 2013.
Currently the ADR to Ordinary ratio is 1: 1. As a result of the split, the ratio will change as 1 Ordinary to 4 ADRs.  Hence ADR shareholders will receive 3 additional shares for each ADR held as of Nov 6, 2013 per a release by Citibank, the depository for this ADR program.
Here are some key facts from Safran's Website:
SAFRAN AT A GLANCE (2012)
62,500 employees worldwide
€13,560 billion in sales
€1.6 billion in R&D expenditures
MARKET POSITIONS
No. 1 worldwide in engines for mainline commercial jets (partnership with GE)
No. 1 worldwide in landing gear, wheels and carbon brakes
No. 1 worldwide in helicopter flight controls
No. 1 worldwide in multi-biometric technology
The stock has more than doubled in the past 5 years as shown in the chart below:
Click to enlarge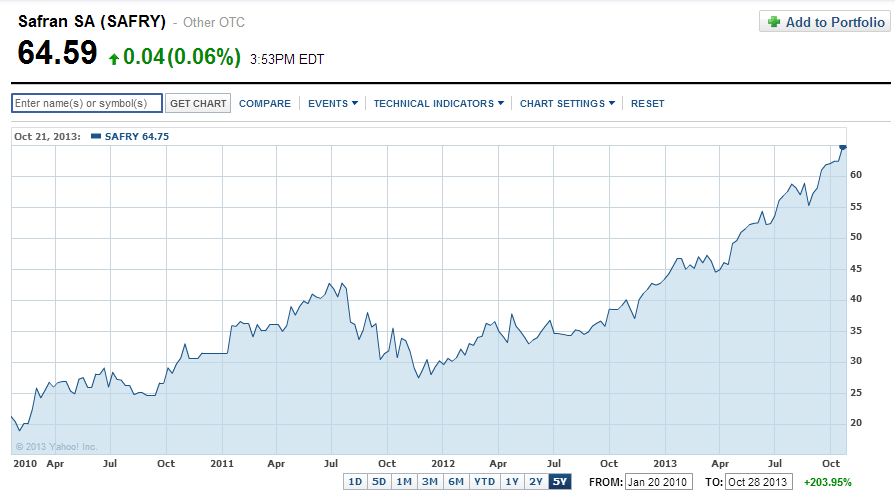 Source: Yahoo Finance
Currently SAFRY has a 1.96% dividend yield.
Disclosure: No Positions