Among the Latin American equity markets, the Chilean market does not get as much attention from international investors as other countries such as Brazil and Mexico do.However this need not be the case. The relatively smaller country of Chile offers many excellent investment opportunities.
Some of the reasons to consider buying Chilean stocks include:
1. Chile's IPSA index is down 13.7% year-to-date as of Oct 9th while Brazil's Bovespa is off by 13.8%. Despite the Chilean economy being in a better shape than Brazilian economy, investors are treating both the markets to be similar. Hence it can be argued that Chilean stocks are comparatively cheaper.
2. The P/E ratios of Brazil, Chile and Mexico are 15.8, 18.3 and 19.7 according to FT markets data. So there is room for some P/E expansion.
3.Chile has a budget surplus based on 2012 data as per the CIA's The World Factbook.  Generally surplus countries are better for investment than deficit countries.
4.A common misconception of global investors is that the economy of Chile is mainly based on commodities especially copper. This is true in the sense that the mining sector brings the largest revenue for the country and is also the largest export-revenue earner. However the sector accounts for only 16% of the total economy. In fact Chile has a very diverse economy as shown in the chart below:
Click to enlarge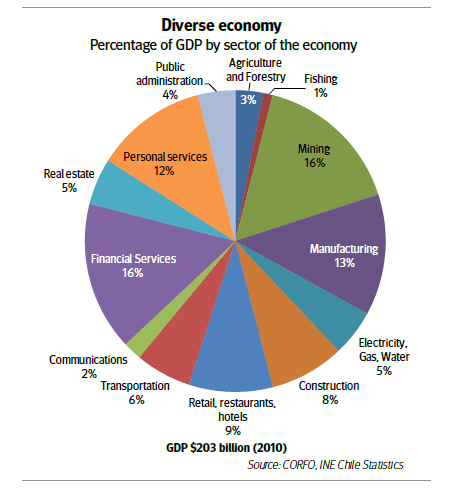 Source: Doing Business in Chile 2012, KPMG
So simply evaluating Chilean equities based on the price movement of copper and other commodities is not wise.
5.Chile has a highly attractive business environment with its low corporate income of 18.5% in 2012. The country's GDP is projected to grow by a modest 4.6% this year and the unemployment rate is below 6%.
Five Chilean stocks trading on the US exchanges are listed below for further research:
1.Company: Compania Cervecerias Unidas SA (CCU)
Current Dividend Yield: 1.73%
Sector:Beverages
2.Company: Banco de Chile (BCH)
Current Dividend Yield: 3.73%
Sector:Banking
3.Company: Enersis SA (ENI)
Current Dividend Yield: 2.59%
Sector:Electric Utilities
4.Company: Vina Concha y Toro SA (VCO)
Current Dividend Yield: 1.65%
Sector:Beverages
5.Company: Empresa Nacional de Electricidad SA (EOC)
Current Dividend Yield: 1.69%
Sector:Electric Utilities
Note: Dividend yields noted are as of Oct 9, 2013. Data is known to be accurate from sources used.Please use your own due diligence before making any investment decisions.
Another simple and easy way to gain exposure to Chile is via the iShares MSCI Chile Capped ETF (ECH). It has an expense ratio of 0.61% and an annual dividend yield of 1.38%.
Disclosure: Long BCH, ENI