Emerging market stocks have lagged the performance of developed stocks this year. While the S&P 500 is up 18.6% year-to-date most emerging markets are in the negative territory or have yielded meager returns.
A sampling of emerging market returns YTD are listed below:
China's Shanghai Composite: -4.8%
India's Bombay Sensex: 1.5%
Brzail's Sao Paulo Bovespa: -11.8%
Chile's Santiago IPSA: -11.4%
Mexico's IPC All-Share: -6.4%
Until a few years ago investing in emerging equities seemed like a no-brainer with stocks in countries like Brazil, China, India, etc. yielding spectacular profits. However that is that the case anymore. For example, just last month currencies of many developing countries from Brazil to South Africa plunged dramatically with volatility in the equity markets soaring in tandem. As is normal foreign capital fled these markets worsening the situation. Fears of another major crisis like the 1997 Asian Financial Crisis seemed likely.
When the Federal Reserve decided to delay the winding down of asset purchases earlier this month, emerging market stocks started to recover. With some countries stabilizing their currency falls and a few positive economic stories coming out of China, emerging stocks may continue their run through the end of the year.
In general, investing in developing countries is not for the faint-hearted. As the events of the past few weeks illustrate the these markets can go darlings to pariahs of international capital almost overnight. Hence investors have to be very cautious in selecting emerging markets for investment opportunities as some countries are more vulnerable to capital flight than others.
From a recent article on FT's beyondbrics blog:
The economies to the left of the chart – such as India and Indonesia – have big current account deficits and plug the gap with foreign capital. Countries to the left therefore have most to lose from capital inflows drying up. Those towards the top of the chart have seen their currencies depreciate since May, as investors have pulled out.
Click to enlarge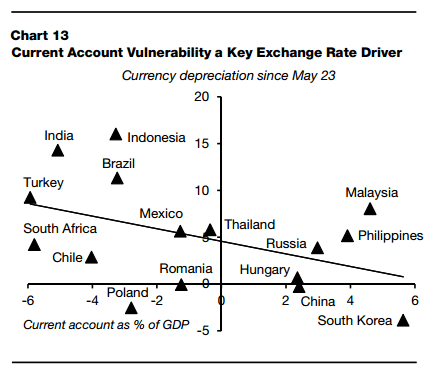 Source: Institute of International Finance (IIF)
Via  Who's afraid of the big bad capital withdrawal?, beyondbrics
Related ETFs:
Disclosure: No Positions