Frontier markets which includes countries such as Pakistan, Nigeria, Kenya etc. are outperforming emerging markets so far this year according to a report in FT beyondbrics blog quoting Citi research.
The chart below shows how many frontier countries are beating emerging countries:
Click to enlarge: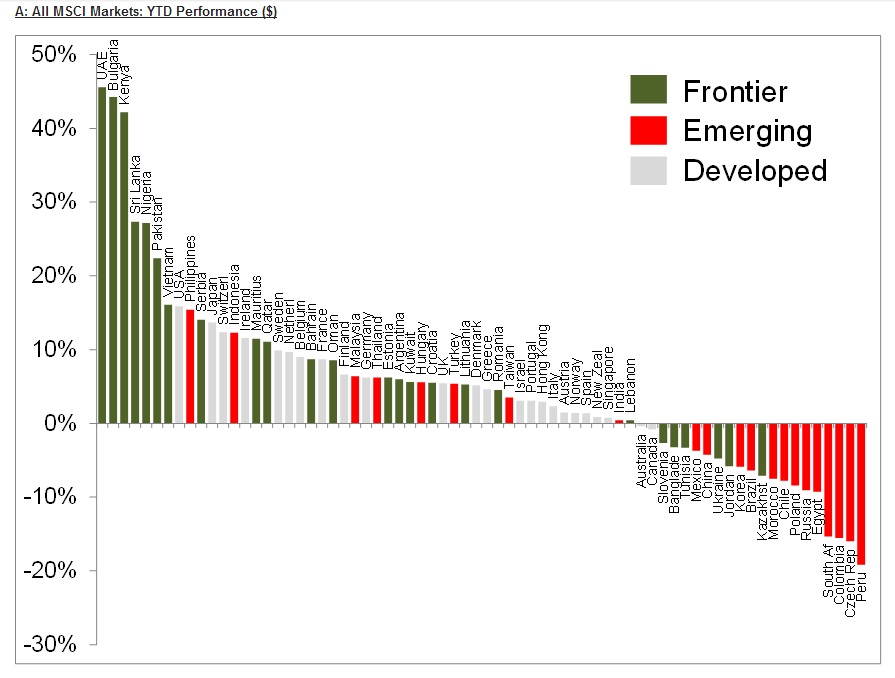 Source:  Frontier markets: handle with care, FT beyondbrics
From the report:
The MSCI Frontier Market index has gained 13.31 per cent in the first five months of the year – its best start since the index was created five years ago. By contrast, the MSCI Emerging Markets index has fallen 4.4 per cent for the year to the end of May. As analysts at Citi noted: "You have to go back to 2005 to find a year in which FM thrashed EM so decisively."
It should be noted that most frontier markets are not suitable for ordinary retail investors since they are highly risky and accessing information on frontier companies is not easy. The best way to invest in these markets is via an ETF or a mutual fund. Individual stocks are not the way to access these markets.
The two large Frontier Market ETFs are iShares MSCI Frontier 100 Index Fund (FM) and Guggenheim Frontier Markets ETF (FRN). Both the ETFs are not too big with assets of over $100 million only.This shows investors are not piling into these markets yet. The iShares fund has about 26% of the assets in Kuwait.
Disclosure: No Positions