National Bank of Greece (NBG) has implemented a reverse split for the 2nd time in less than two years. In November, 2011 when the reverse split went into effect in the ratio 1:5 I noted that investors may want to avoid the stock. On May 30th, the bank reverse split the ADR again. This time they seem to be trying to keep the share price above $1.00 for some time and gave shareholders 1 ADR for each 10 held. After closing at $1.22 on May 29th, the stock opened at $5.70 yesterday and end the day at $7.07. From the reverse split made in November, 2011 to the current split, the stock fell by over 50%.
The long-term performance chart of the bank is shown below:
Click to enlarge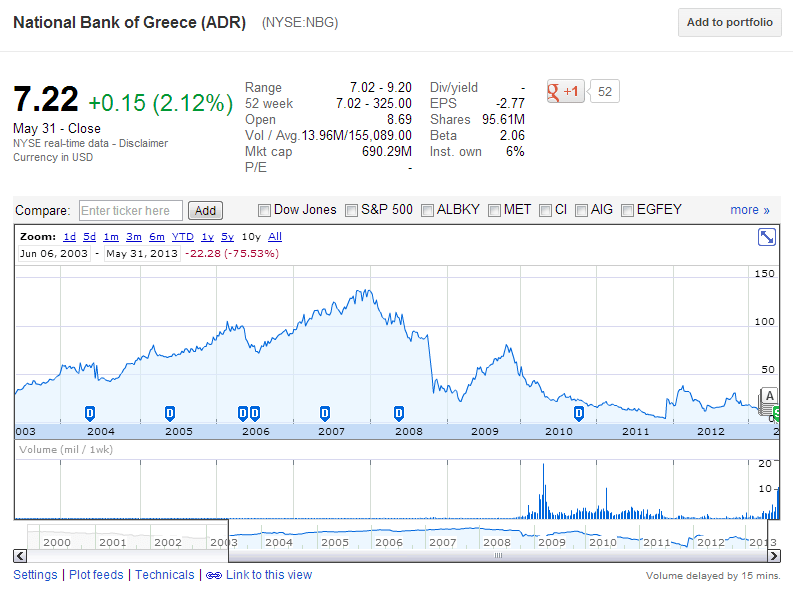 Source: Google Finance
In the past 10 years the stock price has plunged by over 75.0% as shown in the chart above.
The Athens Composite Index is up 5.50% year-to-date as investors are betting that the worst is behind the country. Based on this belief,  investors have picked up debt recently from companies such as oil refiner Hellenic Petroleum and dairy producer Fage according to a report in The Journal.
Foreign investors pumped money into Greek stocks lifting the composite index by 33.4% which made Greece the best-performing market in the European Union per another article in The Journal in February.
From the article:
To be sure, it could all go sour again, should social or political tensions erupt anew and derail the fragile three-party governing coalition's reform program.

Indeed, the economy is expected to contract by 4.5% this year and unemployment is already a staggering 27%. More than nine in 10 households have seen a significant drop in disposable income since the start of the crisis in 2010, while tens of thousands of business are expected to shut down this year, according to traders.

Another risk is trouble in another euro-zone country that could send investors scurrying for safety. A simmering political scandal in Spain and the outlook for reform in Italy following elections that wrap up on Monday are among the bigger worries; both countries have their own financial problems.

And there are also broader concerns about the economic health of the 17-nation block. When February's preliminary reading of purchasing managers indexes for euro-zone countries slumped to a two-month low, major European stock markets skidded. Greek stocks fell more than 4%.
Source:  Foreign Money Is Revisiting Greece, Feb 24, 2013, The Wall Street Journal
Since Greece has not solved many of the structural economic problems I would stay away from Greek stocks particularly financials. Investors can wait a few more years before jumping into Greek equities.
Related ETF:
Global X FTSE Greece 20 ETF (GREK)
Disclosure: No Positions